Discussion Starter
·
#1
·
A Sir Dilbert Lickbath History…as requested
I first heard of the little guy from a post on a Canadian rescue and rehoming board. He had brought home a 2 week baby and once it was home decided he couldn't kill him. Instead he syringefed and stimulated the little thing to eliminate. It lived in a 1 gallon bucket. Since I had a lot of rats here I just let this one alone, since I was sure someone would help out. On a gut feeling I emailed the guy almost a week later to make sure all was okay. No one had contacted him and he told me that he couldn't keep him any longer and was going to set the 3 week old baby "free" in the woods that weekend. It was Thursday night!!! I emailed saying I would take the baby and we determined that the little thing was male. Sigh…With a mostly girl establishment here, I decided that I would take him in, feed him up ,get him weaned and healthy and then rehome him. Yeah right!!!! As soon as I met him I was wrapped around those tiny paws.
On the way home this little guy was eating and popcorning around the Tupperware carrier, playing with my hands…not hiding and nervous like any normal baby. I soon learned that Dilbert was far from "normal".
Just home, I get my first Dilbert Lickbath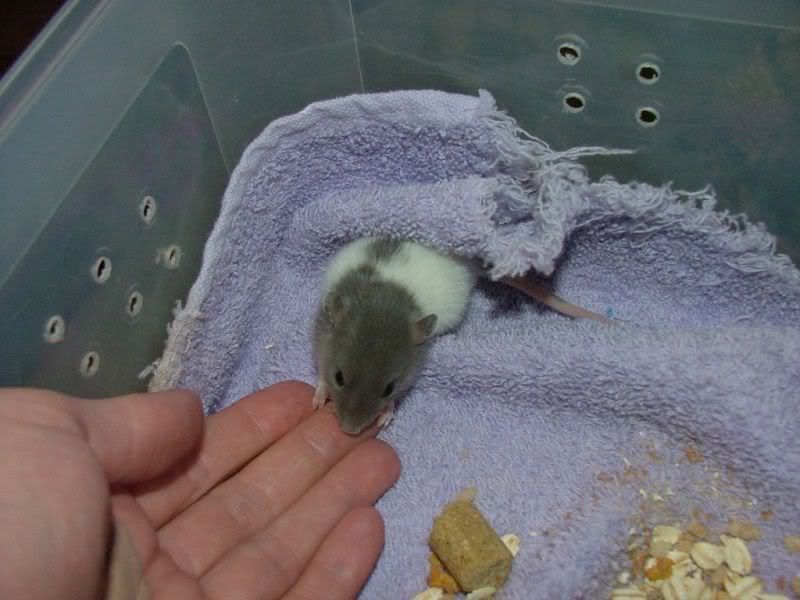 Dilly always wants to be out
The next day I weighed him and he was a whopping 31 grams!!
I caught the now infamous Zombie pic…I seriously thought he should apply as an extra for the next zombie movie. LOL. I called this "I Smell Your Brains!"
Enough play I am sleepy
Mmmm…breakfast
My little man starts to grow up
Here's my wannabe dumbo on my friend's shoulder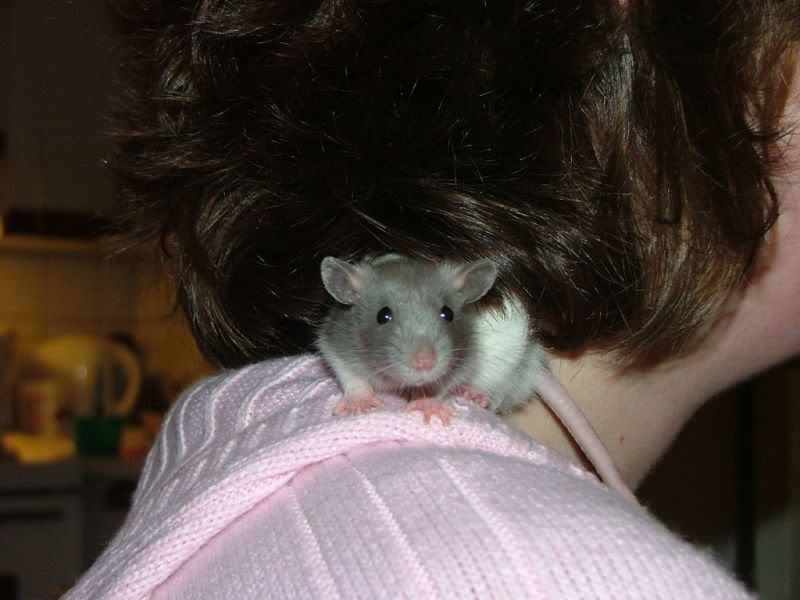 Dilbert looooved to play and handwrestle, he'd stop eating at the promise of a play session….heehee
Wheeeee!!!…more!!!
Sensitive content, not recommended for those under 18
Show Content
Someone had fun behind the pillow, my little carrot stealer
Grooming in my lap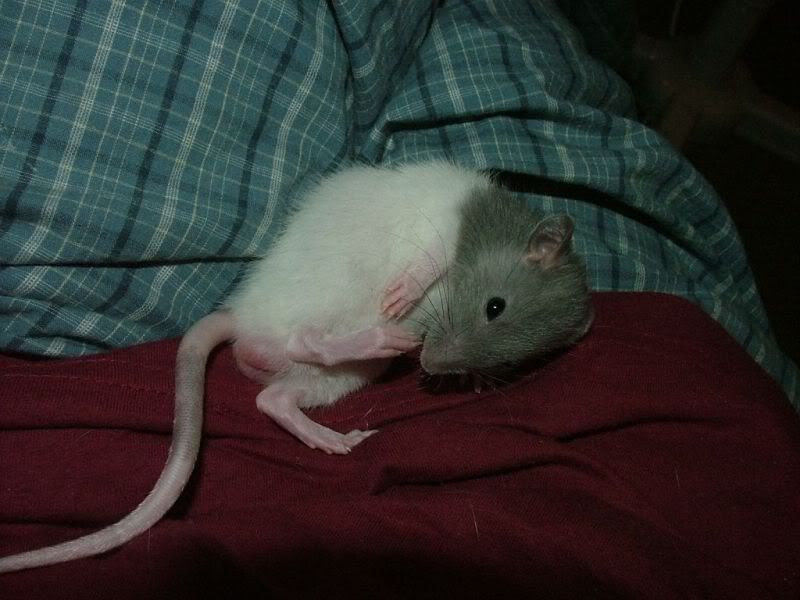 Tug of war with the lettuce
Is that the camera? Must pose!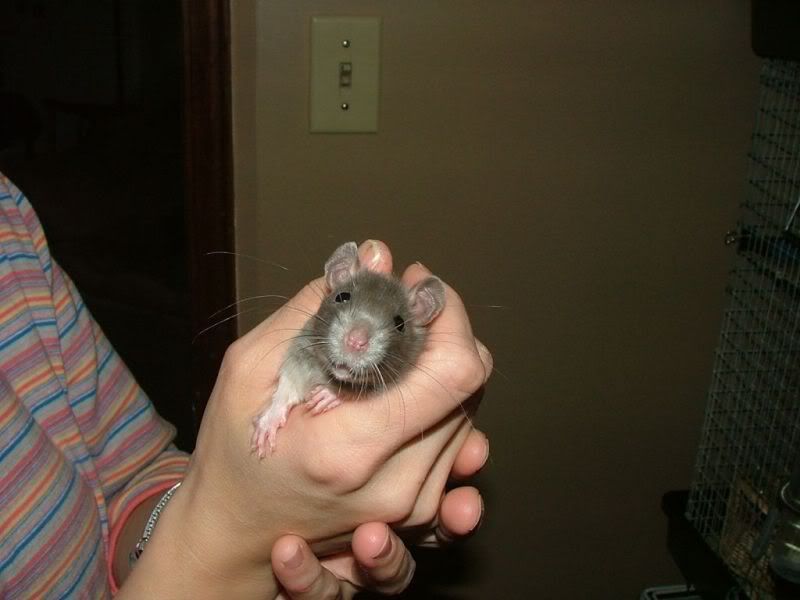 Uncle, uncle, uncle!!!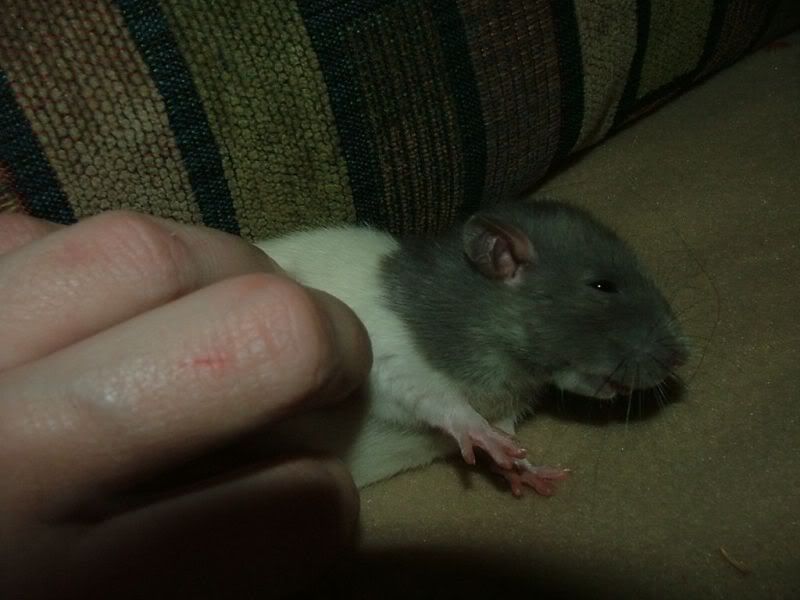 I was home sick one day, and he crawled into my hand so I could stroke him and then he "died"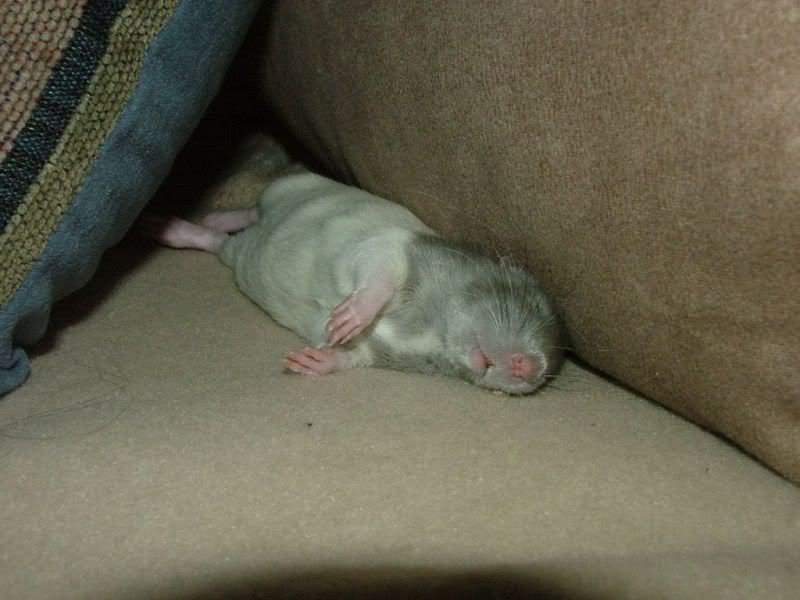 Roaring at the scary horse
Oooh mommy that's the spot!!
Dilly thinks he's a remote
Recuperating from his neuter
A young man, Dilbert still plays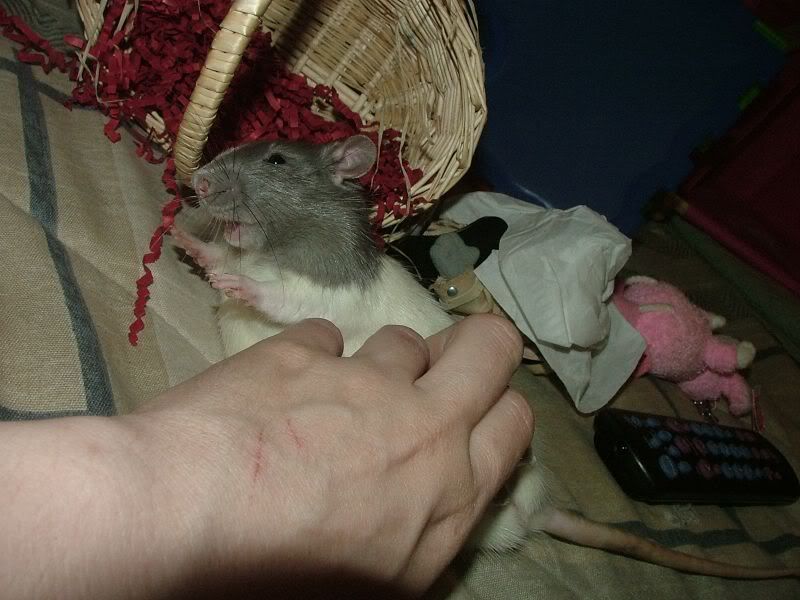 Dillylicious starts to meet his harem
Even at 14 months now, he still bounces, popcorns and wrestles
He loves his girls