the pics are a little hard to see. they're kinda small and slightly pixeled. but from what i can see you have a very cute rat baby. is she a patchwork?
but you can post pics directly here from photobucket. just add
See: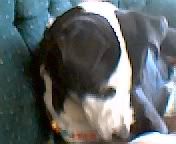 then yu don't have to resize them quite so small though 600x600 makes it easiest for us to view them.