Discussion Starter
·
#1
·
A little history.
Amelia and her cagemate lived with a family who didn't know enough about rats. Amelia got a scratched eye and was taken to a vet who gave the family ointment. they used it for 3 days and she nipped one of the children. They decided it was scaring her too much and stopped. Sadly this was also the last of the Out of the Cage time since they were now scared of her. At the same time the vet saw scabs on her and her cagemate, said they were fighting and they were separated.
I went with a friend to pick them up as they were finally being rehomed, and had them at my home for a few days. Then they went on to their new owner. Sadly the one-eyed girl has developed symptoms of PT or at least neurological signs. I ended up taking both girls back to treat her. So they are now mine.
But I noticed right away that the blue sick girl has lost a ton of weight and also her nose and mouth are crooked. I will show you comparison pics from a month ago to 2 days ago so you can see the progression.
Nose then
Nose now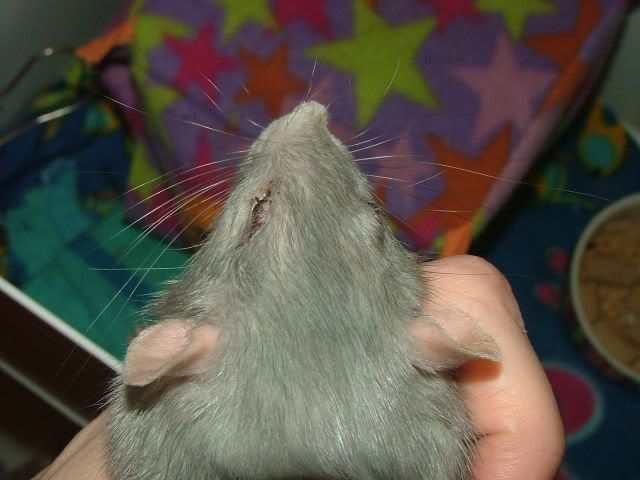 Jaw
and a dangly now showing her limpness and crookedness
She was exhibiting signs of pain and I was really worried so I ran her to my vet last night.
So far;
The jaw is not broken (my worst fear), its actually very stable
No signs of infection (nothing inside mouth, ears, etc)
Heart is strong, no lumps internally
the "conclusion" we came up with was my vet had only seen this type of shift when there was cancerous masses along the jawline.
She is now on baytril and metacam.
She's a sweet passive girl, but she's tricky to read her body language, so I am going to have to learn fast!
Has anyone seen this before?