Discussion Starter
·
#1
·
After so long waiting, I have finally brought home some ratties! I was going to adopt some from the MSP area, but my ride was lost for the weekend, and so I had to stay local.
They're from PetCo. I know, I know. But it was almost an impulse, it was so bad. I was shopping for fish food, with my boyfriend, roomie, and her boy-o, and saw two adorable little faces in the rat cage. Long story short, I gave in to pressure, and now have two sweet little baby girls!
They are Sevilla (Brown black Berkshire) and Belgie (brown black capped. And she has this teeny spot on her tummy, right where a belly button would be if she were human! It's the cutest thing). I've been trying to figure out if they're agouti, but I think it's just a really dark brown. Not chocolate, more black than that.
They're warming up to me really amazingly. I've been hand feeding only, whenever they ask for it (which is basically whenever they're awake), and they're learning quickly who's the foodgiver around here!
Temporary housing is a metal mesh bookshelf thing (from Target, you'll see it in some of the photos), with fleece lining, and random cardboard furniture. With some scattered cat toys, though they're not much interested in those aside from chewing value. Coming next weekend is a Coast Cage Ritz Rat Condo (and I'm totally stealing your modification idea, Mana!). Food is currently Beneful Healthy Weight dogfood, plus tonight they got some carrot, frozen corn, and small pieces of chicken (as an example of the people food part of their diets). And there's some Harlan 2018 lab blocks on their way. Plus they're getting yogies, naturally!
They're not getting a ton of free range time yet, they're not really into being picked up at the moment. And I don't want to let them out if I can't get them back! But we have a good time with them wandering around the top of their cage/in hoodie pockets, which is doing a good job of socializing them. Free roam will come later.
Alright, enough of the talk. Here are the photos!
Babies sleeping. I've taken a couple of these, and every time, Belgie's on bottom, and Sevilla sleeps laying across the top. I wonder why?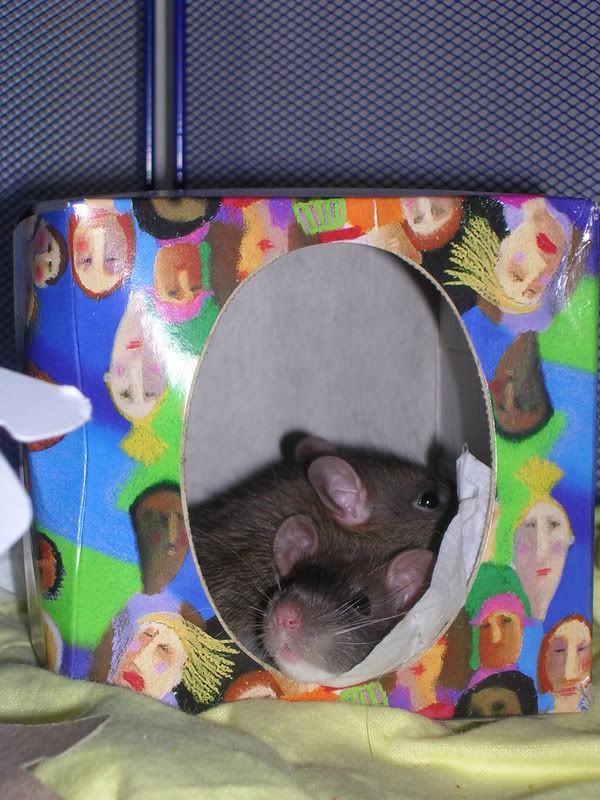 Shot of Sevilla's tummy- the line is almost perfectly straight!
Sevilla, peeking out of the hoodie pocket. Ain't she a charmer? She's quite the clown, seems to love having her photo taken! And she's a nibbler. She'll nibble on my fingers at any opportunity. Sometimes it's cute, sometime's it's not...
A rare mug shot of Belgie. She's not so into the camera. She'd rather be the independant explorer.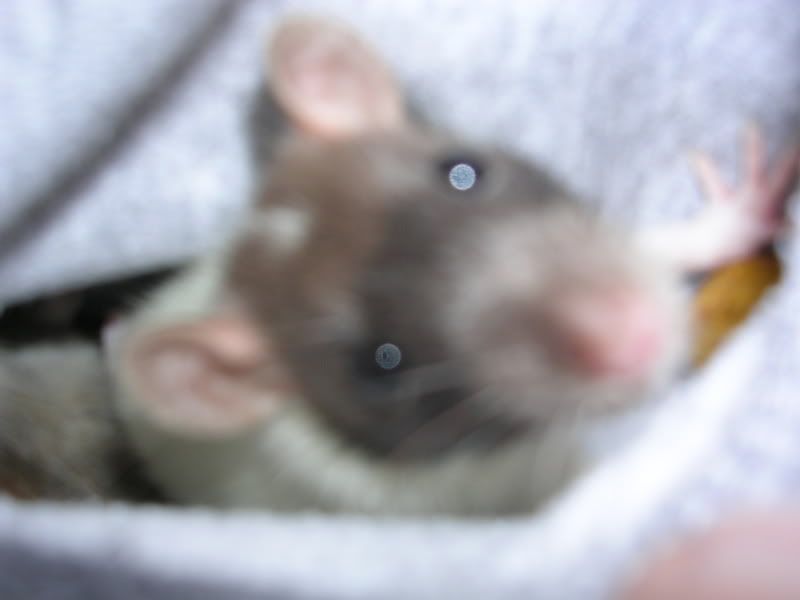 Together in the pocket!
Sevilla: What's going on out here? I better investigate, nothing can hold me back!
Belgie: Oof. But why are you stepping on
me
?!
Me, with the ever darling Sevilla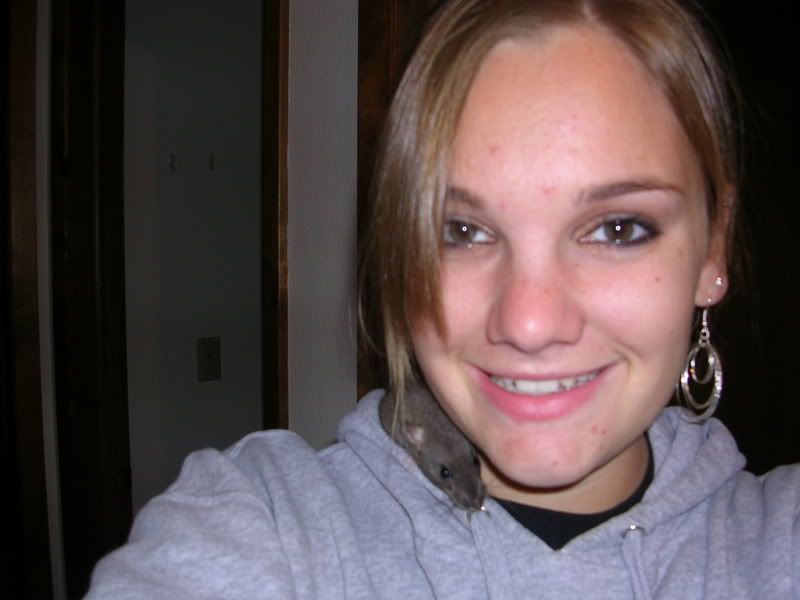 And finally, my roomie with Sevilla! The one who said, when I asked if she minded me having rats, "As long as I don't see them!" Ha. I knew she'd warm up!