Discussion Starter
·
#1
·
My rats Lylith and Luke have a planned litter coming in about two weeks.
My first litter, too.
However, my friend breeds her rats constantly, and doesn't EVER seperate the males and females. She also doesn't ask questions of the people who adopt these sweet little babies. So when one of her "friends" came over with one of her rats...sister to my Luke, and said.."Valerie had 11 babies and won't feed them, what do I do?" ..With all my researching i've been doing, I just had to help.she ended up coming around on her own. Then this girl decided...after intentionally breeding her... that she didn't want Val or the babies anymore.
Now, my friend already has 18 rats at her place. I have four...and a ton of extra cages i've gotten since deciding to go ahead with a planned litter between my hooded and my Siamese. So, I brought Val and her little sweeties home.
They were born on the 22nd, accordng to the girl. I figured I'd share few pictures of the cuties...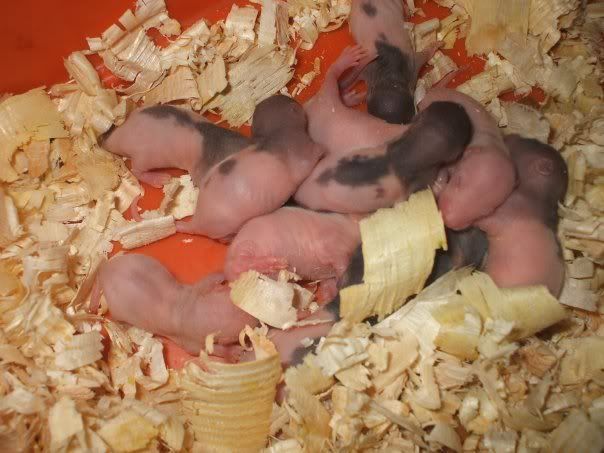 At one week old.
One week and four days.
I also have a question about my pregnant rat.
She refuses to stay in her own cage.. the second she can, she makes a run for it and climbs all over Lukes cage...eventually I cave and let her in.. she's already pregnant.. and they snuggle like mad. Can I let her do this until shes closer to having them?? she's so unhappy without him.
Pic was taken the first day they met.