Discussion Starter
·
#1
·
I just finished building my first home-made rat cage, and my rats love it!
I may be interested in building another for someone who would like a sturdy, nice-sized cage and who lives in the southern california area.
However, it would have to be in the next two weeks or so, because I'm leaving to go back east for school after New Years.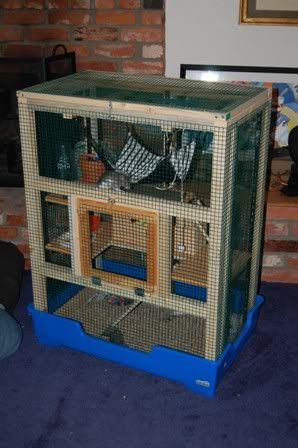 The bottom of my cage is the tub of an old ferret cage, but a new one would use a plastic storage bin.
There are two wooden beams along the top of the cage with hooks attached. You could attach many things from these hooks. (string, hammocks, etc.)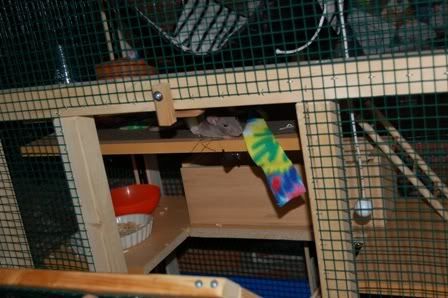 Pro's:
I have 3 boys in it right now, and they have more than enough space. They love climbing around and exploring all of the different beams. I'm sure it could fit more than 3.
It's extremely easy to clean. The wooden levels are water-proof and the bottom can be filled with litter and can easily be dumped and cleaned.
It's sturdy and strong; the rats have no hope of escaping...nor would they want to!
There is a front door with a latch and the entire top screen can be removed on a hinge, for easy access to the entire cage.
The cage is covered in chicken wire, so it breathes very well. This also allows the rats to climb all around the cage.
The levels are completely adjustable, so your rats will never get bored!
Con's:
It is a bit heavy, so you would probably want it to stay in one place most of the time,.
The materials are a bit pricey...but I'm not really interested in making much of a profit.
...that's all I can really think of...
Please let me know if anyone is interested!