Discussion Starter
·
#1
·
Hey everyone...my girl Scout recently had a litter, and two of the boys ended up with very neat patterns on their bellies, and one even had a blaze. I had never seen the patterns before, and when I was looking at pics of rats I stumbled upon a berkshire, and sure enough that's what they are. Or so I thought...
Now
I have read that there are different types of berks, like vari-berks, european berks, etc...I have tried to look it up, but like I said, the way I even found a "regular" berk was by accident...so I thought someone here might be able to tell me. I will show you some pictures of Ash, the black berkshire (the other one has a blaze and is beige/white).
His right side:
His left side: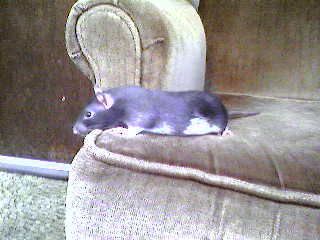 His tummy:
Let me know what you think!