Discussion Starter
·
#1
·
I don't THINK this is anything to worry about, but I just thought I would run it by you to see if you have any input.
Ivy, my sweet little fatun who is not yet 1, over the last few days has seemed to acquire an oddly discoloured ear.
It doesn't feel scabby (I thought it might be the start of mange - as one of my rats has it) so I've ruled that out. It doesn't feel anything different to normal in texture/temperature.
It can't be rubbed off - I tried to clean it, in the hopes she had found herself some trouble and got caught red eared - but no luck.
She's not worrying at it, and her behaviour is normal.
She has however, begun losing hair at the top of her legs beneath her chin/neck - but I think that is Max overgrooming her (I caught Max at it yesterday). Regardless though, they all have Xenex to be treated with on next clean-out day, so mites will shortly be ruled out.
I think it MAY be a bruise - but so far it's not been following bruising patterns and has been spreading but over the days I have been monitoring it, doesn't appear to be changing in colour (as you would expect bruising to do)
Any ideas?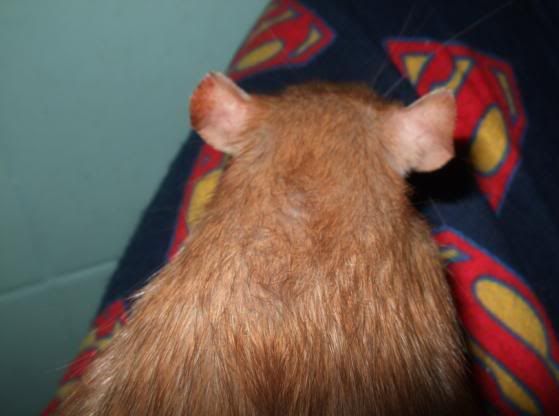 And because she was fed up of me photographing the back of her head, here's a front shot - cheeky isn't she?
Thanks guys, and Happy New Years!