Discussion Starter
·
#1
·
FINALLY!! my mother has finally said i can have my big cat cage back. so now i have to find time to pick it up and cover it. the only material available to me is galvanized hardware cloth. i don't really want to use it because it will rust and hold odor but i have no other option. they'll chew through screen as some other members here have found out the hard way.
i was thinking about using it for my bunny dexter but now he seems content with his cage he has now so i'm less sure i will use it for him. he can get out his cage on his own now but most times chooses not to. so i don't know. i think i'm leaning more to using it for the rats again now. and this is the thoughts that came with using for the rats idea:
but the new cage will pose some problems in decorating. the bars are vertical rather then horiszontial (sound it out and the word will make sense, for some reason i can't spell that word today) which means a few of my hanging toys won't be able to attach. also, where i will have to cover the sides its going to make attaching the parrot ropes difficult. i figure i can still do it if i cut space for their attachment but its going to make moving them aroud difficult. i also suspect that the lava perch won't be able to fit in the bars. i will also need to go out and get some fabric and binder clips for the levels. they're solid but a few of them have these weird little grooves that i think will be more hassle then they're worth to clean properly.
but they will have more room so all this trouble will be worth it of course. and i kinda like setting up new cages anyway. but it is going to be a pain. and i know once i get the cage i'm going to obsess over getting it ready for them. so i'm going to have to leave the cage at my mom's until i have the materials at least. maybe that will help me from breaking the budget trying to get everything at once. but i know its there, and i can have it... its hard to not skip class and go get it....
in anycase. any advice that you can give me about attaching hardware cloth would be appreciated. what tools works best? how far apart should zip ties be? was there something better then zip ties that worked for holding on the mesh? and how small a mesh works best? i'd still like to be able to fit my finger through for kisses and pats but i don't want the gauge to be flimsy. i think the larger the spacing the less thick the wire seems to be. but i could be wrong. can you get strong wire with large enough holes for fingers?
this is the cage i'm getting back. i've actually owned it for 2 years but mom kinda took it over. but i'm finally getting it back!! *squeals with delight*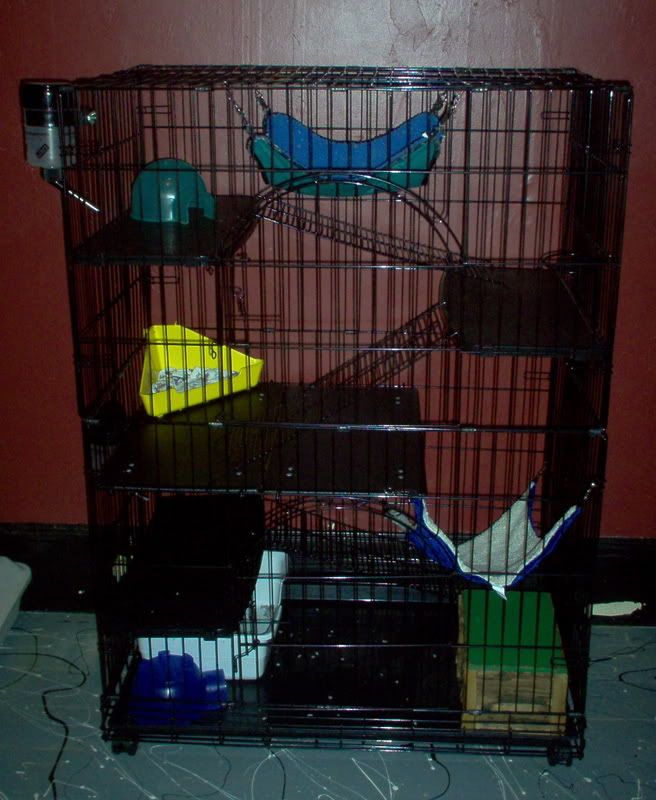 (i'm at school right now but i will post pictures of their set up now to give an idea of the toys i will have to adapt.)