Discussion Starter
•
#1
•
Hi! My name is Hannah, but you can call me Doge. I live in Northwest Missouri and I'm 15 and a half as of tomorrow! I've been owning rats since I was 10, and I've had 6 so far. I've been in love with these little guys since I first met Ritz, my first rat. He was given to me as a surprise after I'd been begging for so long. He was a big, beautiful agouti rat, and no one wanted him 'cause he looked wild. We got him for free the day he was gonna be put down. After a while, we got him a companion, Remmy, and we've been owning rats since. As of right now I only have one rat, a cute, black hooded rat named Oliver. (Seen Here!)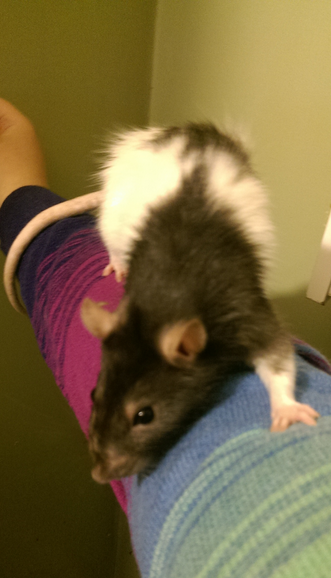 And, yes, I know what you're gonna say. "But Doge! You can't have just one rat!!" But don't worry, I'm getting him a companion sometime this week! :'> His friend, Wick, died suddenly about a month ago. We got them from Petco because there were none in the local shelter, and were only planning on getting Oliver, (as a companion for another passed on rat, Speck) but Wick was his cagemate and couldn't bear to be parted from him. Speck honestly hated them both, but hey, what can you do? It's sad, but I'm so glad I got Oliver and Wick regardless.
Oliver, my current rat, is the most energetic rat I've ever had. Ever. I've only ever had male rats, so I have no idea if he's actually as energetic as I think he is, but he's just so excited about everything! Super curious, too. And also tough! When we first got him, we left for a weekend to go to Omaha... When we returned, Oliver was missing! Where we found him? He'd been washed in the washing machine! Thank god my grandpa also forgot soap... That was the SCARIEST thing that's ever happened to this rat mama. But I digress. I digress a lot.
That brings me to my next topic, me! As I said, I'm 15 and live in Missouri. Besides my Ollie Wollie, I also have a dog named Patch and a cat named Milo. I love to draw, and have a DeviantArt that you should definitely check out...
http://dogepauus.deviantart.com/
;> I'm obsessed with the Chaos Walking trilogy and Steven Universe, and listen to all sorts of music. I aspire to be a writer, biologist, or maybe even an animator or voice actress. Animation and biology, especially, are some of my favorite things to learn about, but honestly, I just like learning. And talking. Can you tell I like to talk a lot? Probably. I tend to go off on tangents... Oops. Oh well!
I think that's it for my little introduction! I'm super excited to talk to you all! <3