Discussion Starter
·
#1
·
Hi!
Im Mirg. I own 2 male rats.
The first one i got for my birthday. I admit it, i didnt know anything about rats back then, but my freind got a rat for me, when i wanted a mouse (im glad that i got a rat though). He was a Black Berkshire male that i named Ozzy (sometimes nicknamed Ozzkins).
A little while after that, my friend saw how much i liked rats, so she decided to get a rat, but, i guess she had to be better than me, because she got 2 rats. The first one was an Agouti Hooded male named Steve. The second one was a Black Hooded male named Stinky.
A few weeks after she got them, she realized she couldnt take care of 2 rats because she was having family problems. So i adopted Stinky from her. A few days later, sadly, Steve died, i never found out why. Im glad i got Stinky out of there.
Now both my boys are full-grown and very chubby and playful.
I am learning as much about rats as i possibly can without my head exploding. I am hoping to open a rat shelter once i move out (both my parents hate rats :roll: ). Once i get a shelter going, i will hopefully start teaching everyone in this area that rats arent as bad, gross, and stupid as they think they are. If you have any information for me about rats or opening a shelter, type away!
Here are pictures of my ratties (i dont have a lot on this computer right now, but ill work on getting some more) :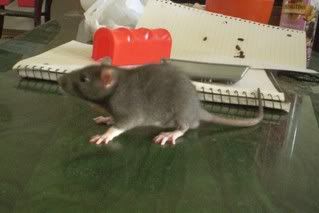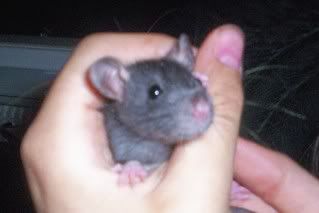 Ozzy as a baby, the day he came home.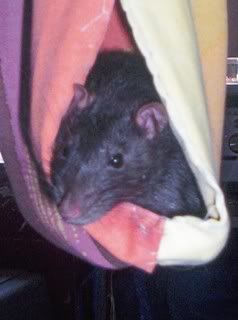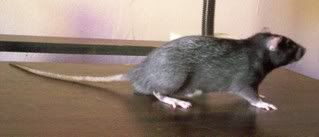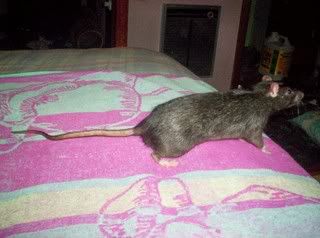 Ozzy grew up big and strong, then...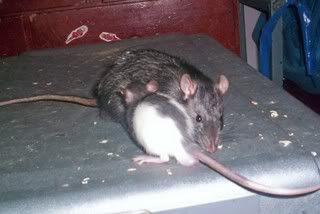 Stinky arrived.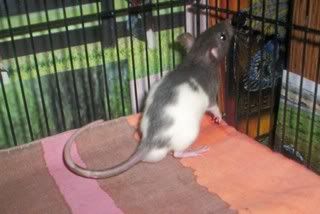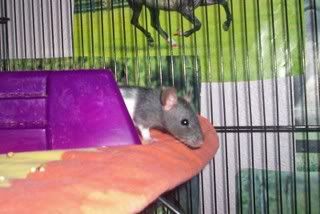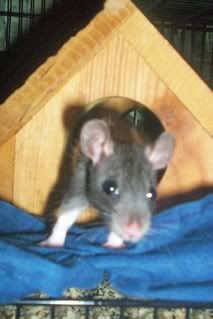 Baby Stinky getting used to his big, clean home.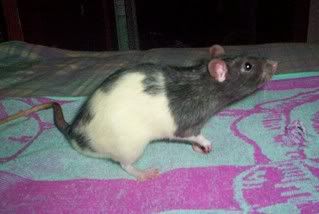 Stinky now, nice and big.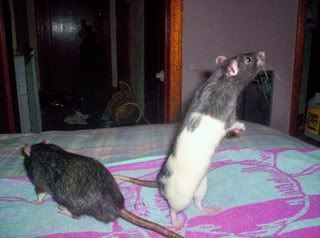 Ozzy running away and Stinky trying to fly.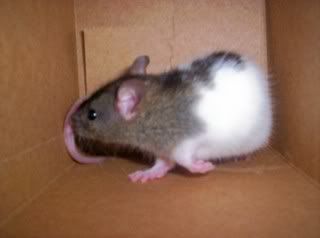 R.I.P. Steve
Other than rats, i also own:
-Four dogs. Two ESS, a black/white male named A.j. and a black/white female named Simetra, One black/tan/white female Mutt named Sophie, And one black/tan Shorthair Dachshund named Wiener. I am a big fan of dog sports and i train the 3 larger dogs in Agility, Sledding, Obedience, and Tricks. I am a member of 3 dog forums.
-Seven cats. They are all mixed breeds. Three are inside, four are outside. Only two of them are mine, the rest of them are my sister's. My cats (both inside) are both black, one male, one female, named Kittiwi and Barrel. My sister's inside cat is Barrel's grey striped sister, Peal. The outside cats are Itty Bitty (black female), Smedly (tan/black striped male), Baby (tan/black striped female), and Gomer (black/grey striped male).
-One bird. A blue male Parakeet named Ravioli.
I know, we are a zoo, but a happy zoo.
Sorry for the huge post, and im looking forward to getting to know everyone and seeing everyones ratties!