Discussion Starter
·
#1
·
Hi,
I wanted to introduce myself. I am a rat lover and breeder/rescue in Southern California. My ratties get are spoiled more than I am. I'm always looking for ideas for new toys, etc. (if anyone has any). I presently have the following ratties:
Boys:
ThomasMagnum - Burmese
Vincet - Sable Burmese
CaptainJack - Black
Dolmas - Black Eyed Siamese Rex Dumbo
Zoolander - Mink Pearl Harley
AlbertEinstein - "Melanistic" Agouti (gene to be tested)
Ferrari - Agouti Irish
Girls:
TiaDalma - Burmese
Zoie - Agouti
Kinko - Russian Blue Burmese
Camico - Sable Blue Burmese
Matilda - Mink Pearl
Agnes - Russian Blue Wheaten Burmese
Satine - Agouti Point Siamese Satin
Ripley - "Golden" Agouti (weird agouti variation, not standardized)
Broadway - Wheaten Burmese
Bobkat - Lilac Dumbo (retired)
Minute - Russian Blue (retired)
GIANT RAT:
Marley - Creamy yellow white color...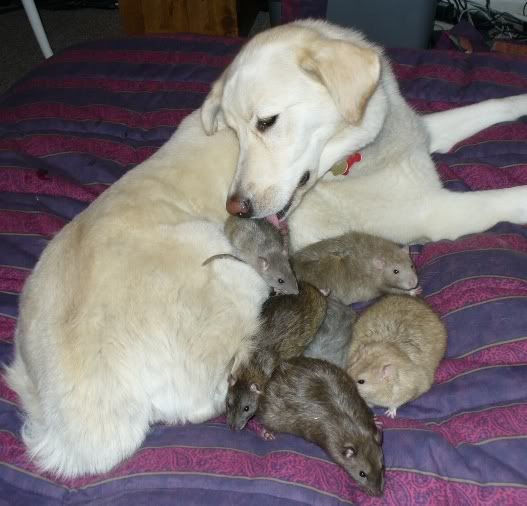 Long ago, I was a horse trainer/breeder and barn manager. Now I am a grad student studying psychology. Thanks for letting me join.