Discussion Starter
•
#1
•
I feel wire cages that ventilate are good cages. I worked with some wire mesh (hardware cloth) to create my large wire cage. Im gonna need another cage so i have thought up some simple ideas that are easy to do.
MATERIALS NEEDED.> 1 roll of 3tallx10foot long wire mesh (hardware cloth) 4 3ft tall peices of wood...You also will need 8 peices of wood that are 2ft long. (all the wood u buy needs to be 2inches x 2inches wide.)
some nails industry sized staple gun and staples.
U now need to start building the frame. The frame it going to be the shape of the cage (rectangular) heres the pic of what u build for the frame. (use nails)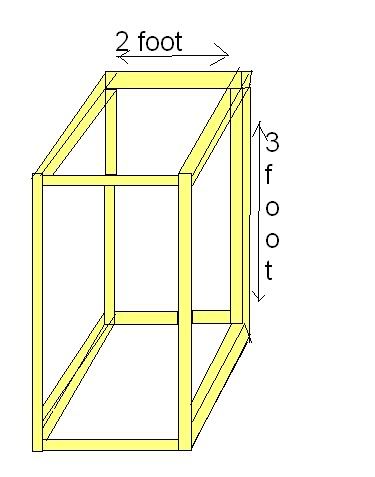 Now cut out 3 2ftby 3ft rectangles out of hardware cloth(sides. also cut out 1 2ftby 2ft sqaure for the (roof). (cut these a bit smaller then than the frame so itll fit nicely)
Heres What it should look like.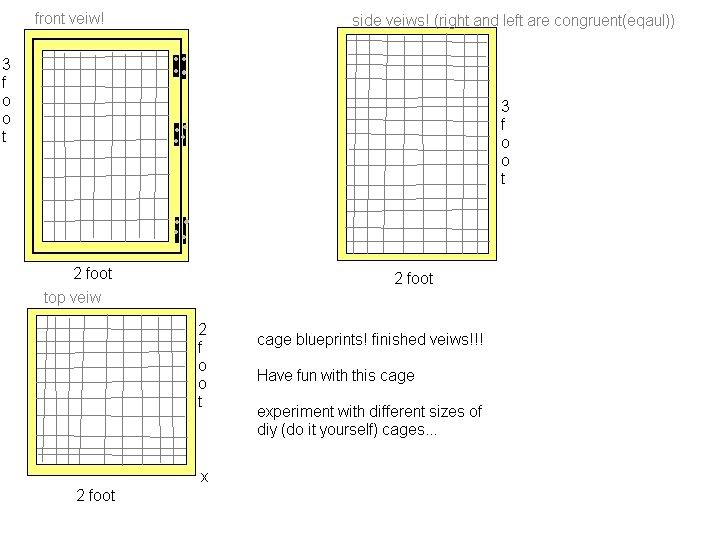 Enjoy the cage idea.... many ppl use this process to make decent cages. I used alumminum to make the pan for the floor tohold the bedding but u can always just use wood and litter train the rats to a litter box. -Josh