Discussion Starter
•
#1
•
Hi everyone,
My name is Kat and I have a few pets including 3 parrots, 1 turtle, 2 dogs (only baby sitting for now) and lots of fish - oh and a husband who takes just as much care as the animals. I have just added to the managery by purchasing 2 female rats a few days ago. They are so cute and pretty well behaved.
I have named them Daisy and Jemima. Daisy is white with a blonde hood and Jemima is all blonde with a little white patch on her belly - they are both very pretty. My girls are about 8 weeks old and I got them from a good petshop along with all of the necissities and accessories.
At the pet shop there were 2 large cages/tanks, one with females and the other with males. I pointed out to one of the pet shop staff that was helping me that there was a male in with the females - she promptly took him out!!! Apparently they had a few highschool students in over the holidays helping out and they were a little careless - hence none of them ended up with a job there! However I think it is too late for my little Jemima as I have a sneaky suspicion that she is pregnant! The lady at the petshop said that if she has babies then they will buy them off me when they were 6 weeks old. If she does have little ones then I think they will be very pretty like their mother, because the male that was in there was also all blonde, just slightly darker.
I have no experience with pregnant rats, or any rodents - but I have done my research just incase. If she is pregnant then she isn't far along as neither myself or the lady at the petshop could tell for certain. Anyway, we will just wait and see what happens!
Daisy has a cute personality, she is pretty cuddly, but when she has had enough she will head for her cage, which is fine cause it means that she likes her home. She likes being touched all over and is quite happy to sit there and be scratched behind the ear. Jemima is a little bit nippy, but I think its more a curiousoty thing rather than aggression cause she hasn't bitten hard, just a nibble really, it just gives me a bit of a fright. And if she is pregnant like I suspect then it would probably be the reason behind it. She likes a scratch on top of her head and rolls her head around so I get her under the chin and behind the ears, but there are limits with her.
They have bot had their first baths today and neither of them loved it, but they didn't hate it either. There was no screaming, scratching or biting at all, they just kinda wanted to get out of the water. I think that it is something they will get used to. I was expecting a bit more of a fuss and some screaming (from them and me!!). I had read a couple of articles before doing it so was prepared with a couple of old towles and I rat proffed the bathroom before doing it just incase they lept onto the floor and ran. I dried them with a towel and they preened themselves till they were dry. Their tails are nice and clean and shiney now, they had the typical brownish patches on them before - now they are 2 beautiful babies! They are sleeping in their homemade hamock now - I think they like it!!!
I have fed them on a variety of things - seeing what they like and what they don't. They seem to want to try everything, the only thing they don't really like is red apple, they nibble it a bit, but if there is something else on offer they will go for that instead. I think their favourite is carrot so far.
They sleep alot durring the day and are awake at night, I know this is normal, however is it ok to take them out and have a play durring the day? Will this interrup their sleep patterns? When is the best time of 'out of cage time"?
Here's a photo - I hope it works. It's not the best photo, but it shows of their colour and markings very well.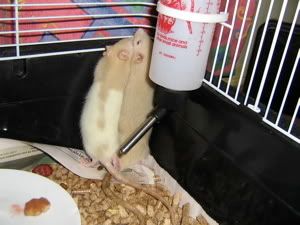 Anyway, that's my story for now. I'm sure I will be a regular on this forum. I have read alot of different posts and everyone seems nice and helpful.
Kat