Discussion Starter
·
#1
·
so when i went shopping for new toys to fill the new level of cage i saw this little girl all alone in the top tank cage of the pet store. she looked so lonely and sad all by herself way up there. when i put my hand in there she immediately started to lick it off. well i couldn't say no to that. *chuckles* neither could my boyfriend... he had been taking me to all the stores without rats to try to find the toys we needed but we couldn't find everything so we finally stopped at pets unlimited and i had to see the rats... he said "i promised myself that i wouldn't let you get another rat but she's so sweet!" :lol: pretty sure i converted another to rat-dom!
anyway, without further a-do here's Babydoll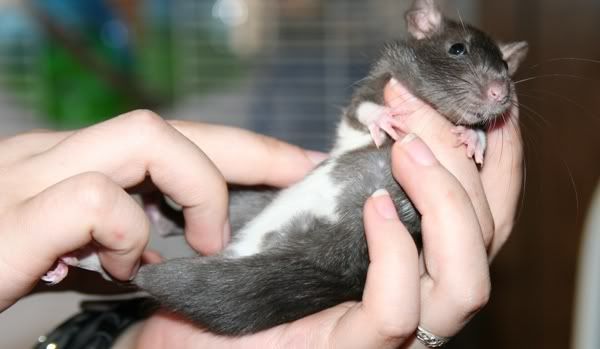 reachthestars and i took quite a few more pictures. so much in fact that the rest are going to be coming to me on a cd. so for now i only have the one to share of babydoll. when i get the cd i'll post more.
we also took pictures of everyone else as well. i only have a couple of tickling bribery's belly right now though. but they're really cute so i'll share.