Discussion Starter
·
#1
·
Hi there
My names Shanny (or Slink). I joined because I am an absolute ratty fiend and I thought it would be a good idea to join a forum where people werent like "Oh no Slink's talking about rats again!".
My first ratty, Willy, lived to about 3years, he passed a few months ago but I just cant let him go so I still tell people he is with me. I potted him up under a lovely tree in a nice big pot in a box with my favourite shirt. Willy was such a special little man, he did the sweetest things for me. Like when I came home from work he would bound out of my room to the door and sit on my foot till I picked him up and gave him kisses (when I said "kisses bubby!" he would lick my lips) and when I was sad he would lay on my cheek licking my tears and giving me kisses.
But a few months back he got an ulcer in his mouth and it burst through his head so he had a hole in his head and he couldnt eat without bleeding from his mouth, it was so sad and I did everything I could but unfortunantly the vets here in Australia are useless and he was just losing more and more weight and getting depressed and sick and one night i injected some water into his mouth with a syringe and layed him on my lap and the water leaked out and i picked him up and he started jerking like he was having a fit and then just passed in my hand. Saddest night of my life, I miss him so much he was definantly my best friend, he cared so much about me and I him, I'd give anything to see him trying to reduce the amout of phone cords in my house for me again
.
On a happier note, I still have Hazzy (or Harry) who is a little younger than Willy, going on 2 years old. Harry was never very nice, when Willy was still around he was a bit of a grumpy recluse. And he did some awful things, like when Willy was weak and sick before he passed he used to go for him and attack him quite violently, but the past few months since Wizzle passed, he's really tamed up, he sleeps in bed with me and occasionally gives nice kisses and he is just so sweet.
Years ago when he was a baby, he used to have a little camp under our couch where he hid our bills and paper towels and horded candy and other foods...we were cleaning and lifted the couch up to vacuum, and there was a little plastic AK-47 under there! It was so funny because we had no idea where it came from.
Anyway, these are my little boys:
Hazzy: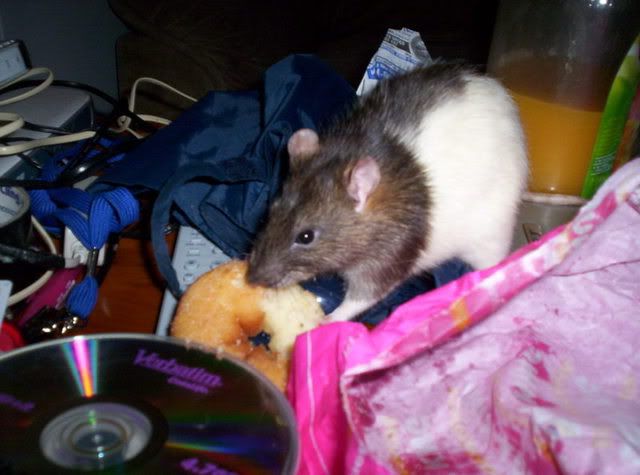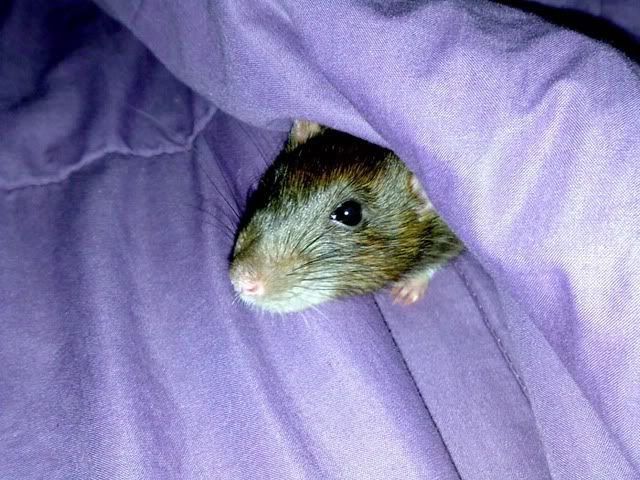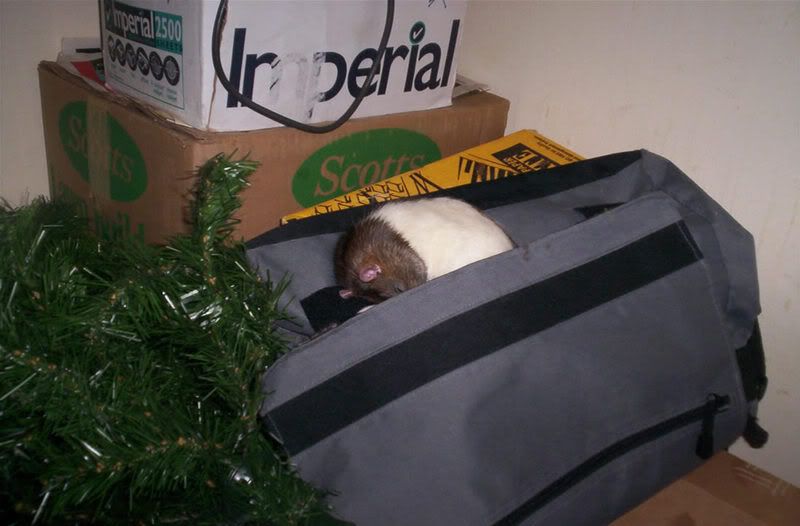 Willy (isn't he so handsome?!):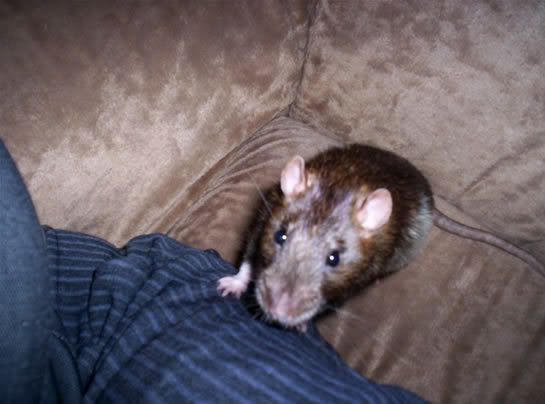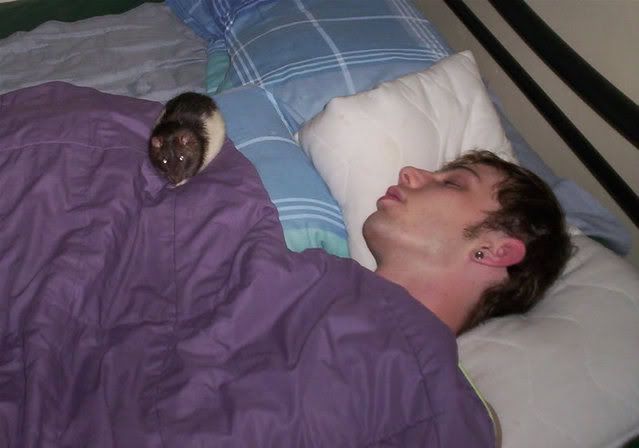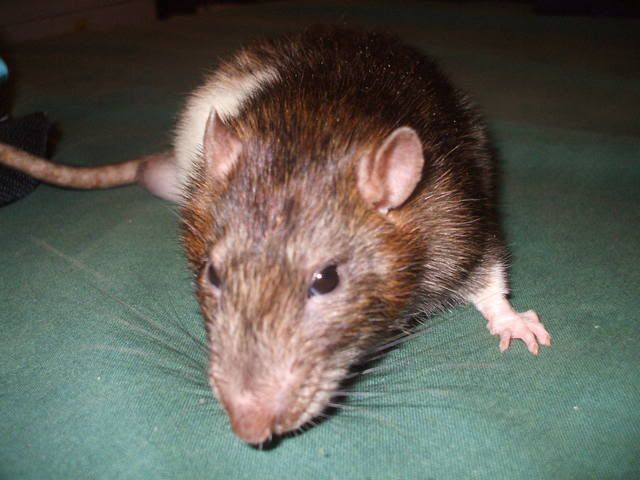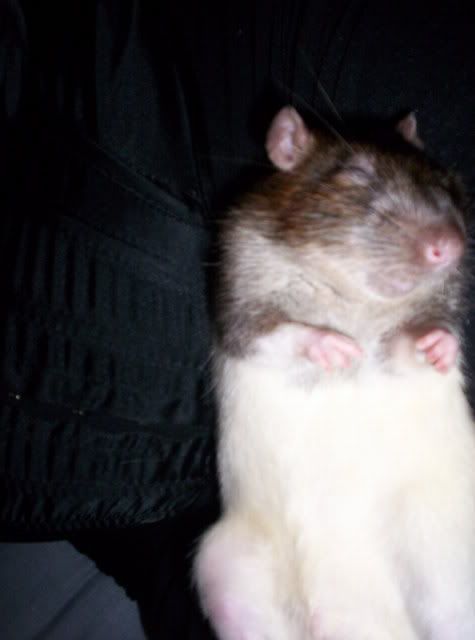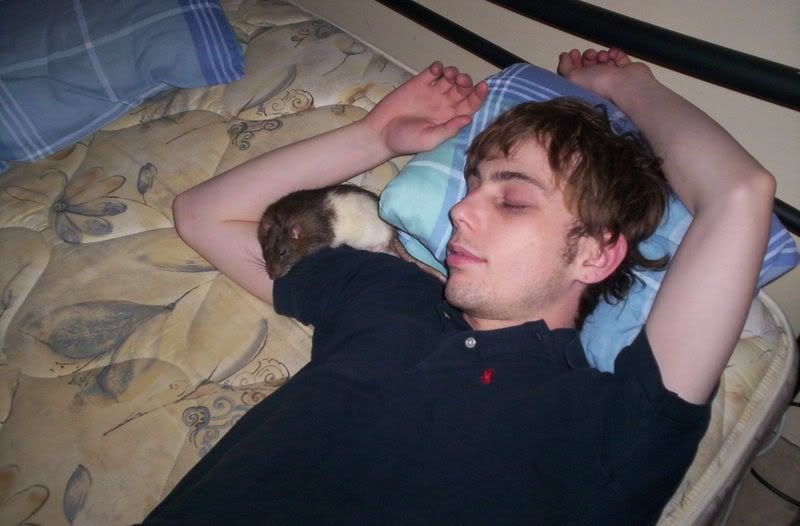 There's plenty more where they came from lol You can see more Willy at his myspace page...
http://www.myspace.com/willytherat
And this is me, Slink, 19yr old rat gal from Aus: