Discussion Starter
·
#1
·
So, I went back to the petshop today (with a colleage from work to get her some yogurt drops for the hamsters she's babysitting) and another of the pet shop workers was on (he knows us well).
I asked about the little Tiltlie and this guy said he's been on Baytril now for 2 weeks and there's been no improvement. His ear is still bleeding.
This guy said it was probably a food allergy - yeah. Ok
So I asked to bring him home tonight and take him to the vet Monday.
Meet Ivan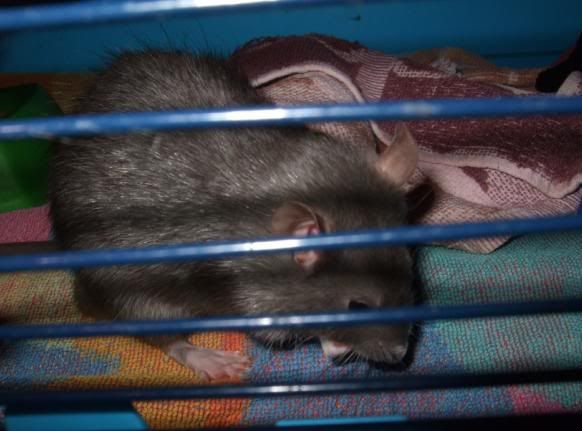 On the way home I was holding him in the car and I noticed a horrible stink coming from his bleeding ear. No doubt about it - there's an infection somewhere in there.
So, I've got him home (literally an hour ago) and I'm choosing to ignore QT. Actually, I lie. I'm not choosing to ignore it - we have an sick cat in my sisters bedroom and she's not a 'rat friendly' cat. He's been on Baytril two weeks - all the rats in the shop have been there for far longer than that. So I weighed up the risks and decided that his well being was far more important than 'what ifs'.
He's a lovely little guy. He was giving me little whisker kisses all the way home. I've put him in the sick cage for now (it's the only spare cage I have until my new cage gets here!) and he's already climbing out onto my hand and bruxing and the first thing he did was jump into his tube hammock and beg for a little attention!
So what do I do now? I've put a small dish of yogurt with Baytril in his cage(even if the petshop says it's doing no good, I think it's best to continue) and plan on giving him 0.1ml twice daily until Monday when I can get him to the vets. He's not very young - definately full grown. Perhaps 6 or 7 months old.
Should I clean the dry blood from his ear? What's the best method? The last thing I want to do to this little guy is give him a harder time than he's having already!