Discussion Starter
·
#1
·
Compared to some, this isn't much of a rescue story. But, it's a sweet little story, so I'll tell it to you.
Mid July, I take one of my rats, Ritchie, to the vets for the removal of a growth on his side. Two days later, I'm due to take him back for his post-op check up. During work that day (we were taking him to evening surgery) I received a phonecall from one of the nurses, who I happen to be quite friendly with. She tells me that two baby rats were brought into the surgery the previous night, and they desperately needed someone to look after them.
I was told that some builders brought the babies in after a days work, during which one of their mechanical diggers had destroyed the rats nest. There was no sign of the mother, but all the other babies in the nest died, except the two that they were kind enough to bring to the vets. The nurse said they were very young, they hadn't yet opened their eyes, were both quite weak and, frankly, she didn't think they would survive long.
Well, needless to say, I couldn't say no. I did some research during my lunch break, decided that although I couldn't QT in a separate airspace, the best I could do was my sisters bedroom (it was a chance, I was lucky, but it was either that, a lightless outside garage or they would have to be put to sleep [which is technically the law with 'vermin']) at the opposite end of the house (and upstairs) with the door closed and clothes changing and anti-bacterial scrubbing before and after entering the room.
I picked them up that evening and oh my god, they were the smallest, cutest little things I have EVER seen in my life! They both were very weak, apparently they had eaten very little at the nurses house the night before, and were covered in fleas. Although we were given some kitten milk to try and tempt them with, we left with the instructions of 'keep them warm, keep them comfortable, that's all you can do'. Hmph! I got home, settled them in a wrapped fleecey blanket wih a warm wheatie underneath and tried giving them some food every half an hour or so for that evening. They weren't too interested, but after a little persuasion, they both decided that they were hungry after all, and started eating!!
The next day, (after a night of on-off feeding and pottying) they were happy to sit on a towel and crawl up to the dropper to feed (as their eyes hadn't yet opened, so it was good to see them able to find their way to food! They were definately stronger! GOOD sign!)
(For reference, this was the second night we had them (below) and they really were tiny. Their body size was the size of the tip (mid-joint to tip) of my thumb!)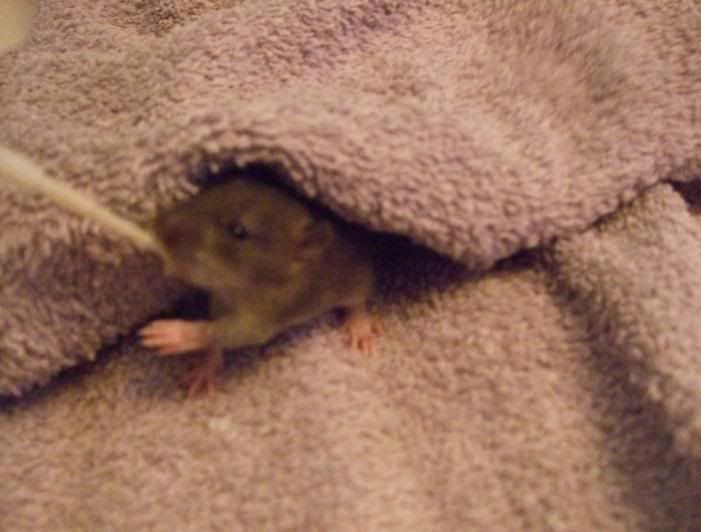 The day after, luck was definately on our side. That evening, Fat Face's (we could only tell the difference between them by calling them Fat Face and Thin Face, and as we intended to release them, I didn't want to get attached by naming them!) opened it's eyes and the following morning we awoke to find Thin Face had opened it's eyes too!! After that, they came on leaps and bounds! We called the vet nurse to let her know and she couldn't believe they had survived. I have to say, even I was very surprised!
It makes the all night feedings, pottyings, early mornings, late nights and no sleep worth it
Here are some pics of them as babies;
3 weeks old (most of these are Max! She was a climber)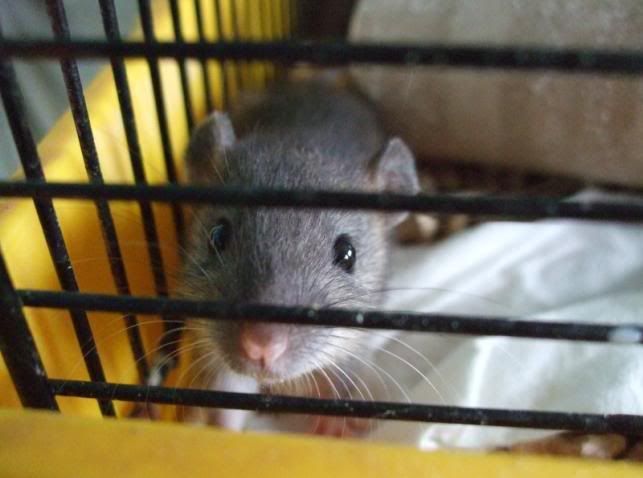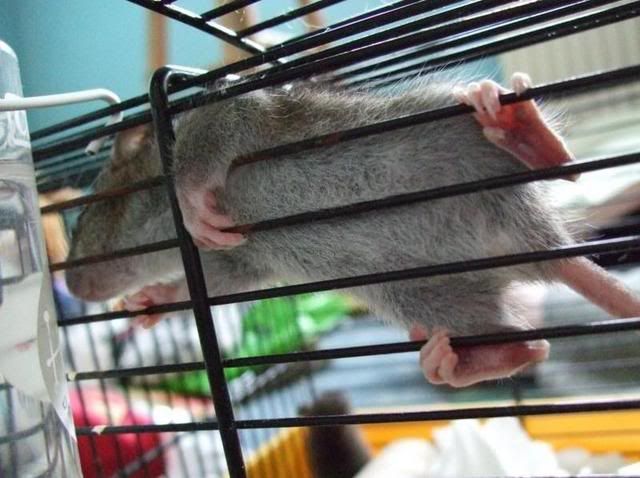 4 weeks old (again, mostly Max. By this point 'Thin face' had become Max and 'Fat face' her brother Oz)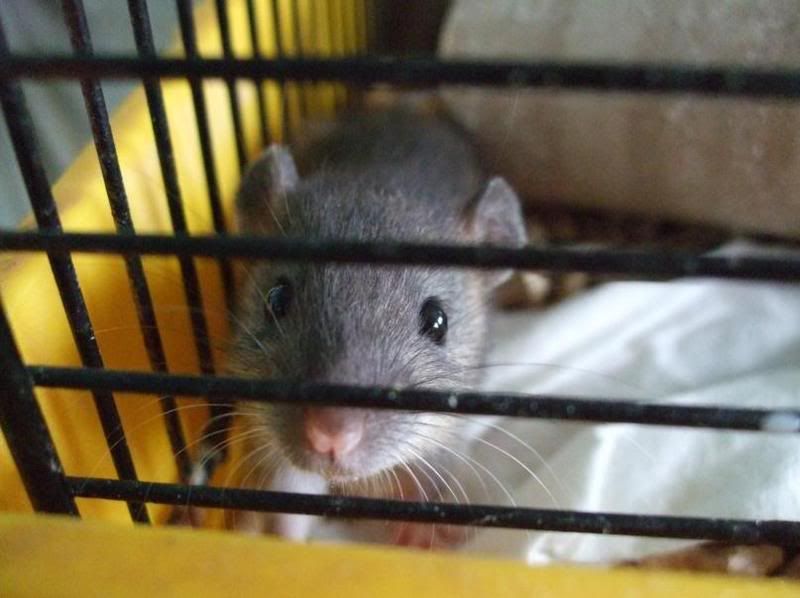 5 weeks old, see how big they're getting?
Oz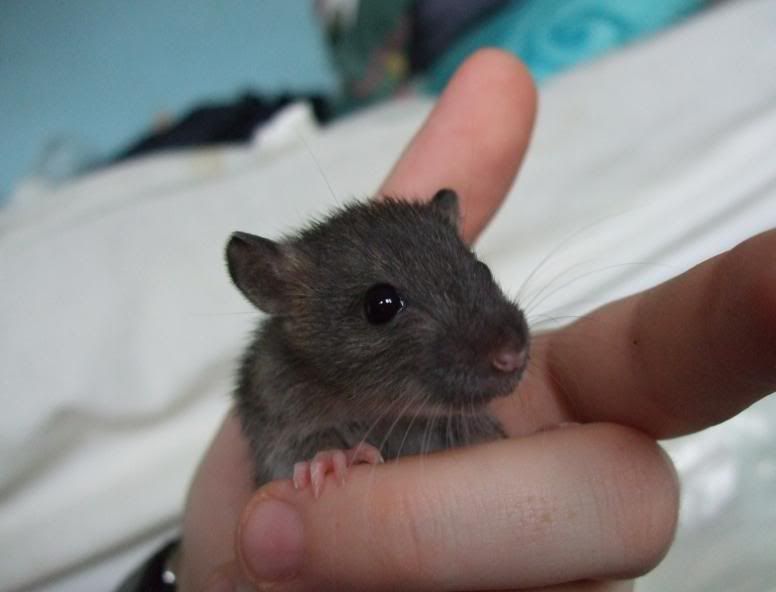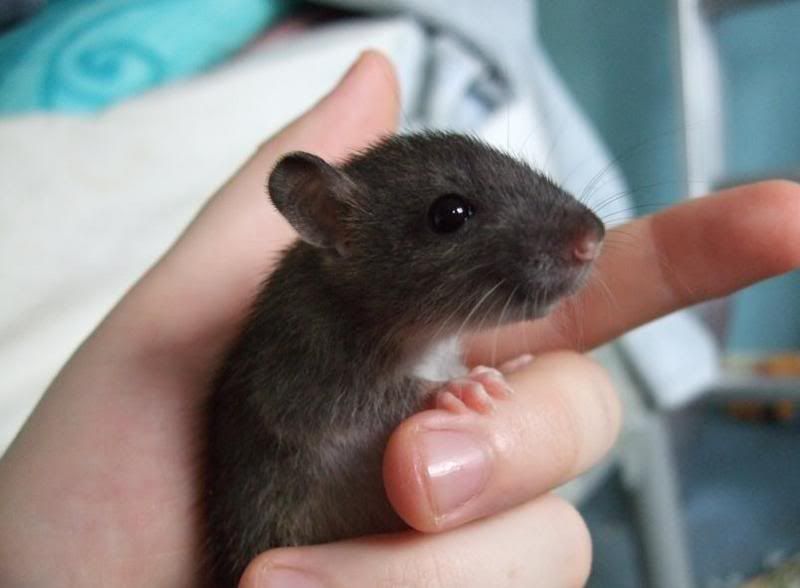 And Max!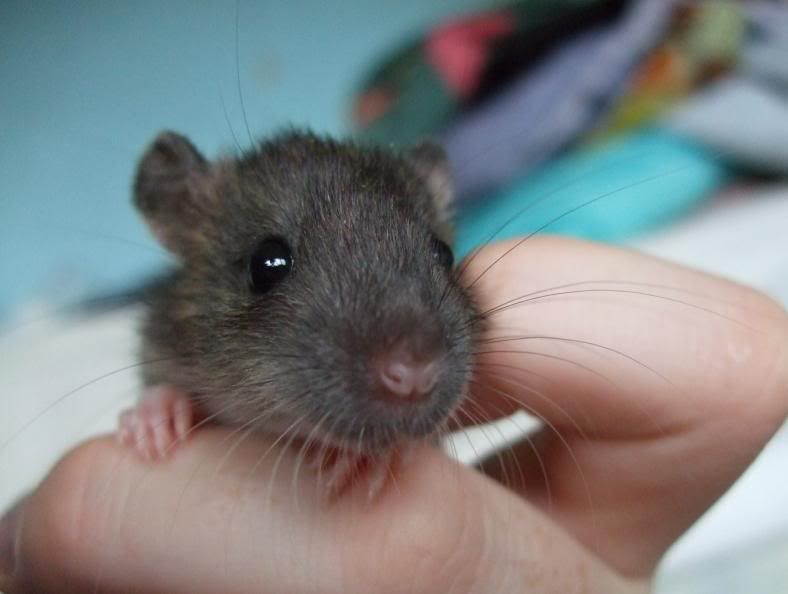 Now, unfortunately, this is where the story turns sad. Two nights after their 5 week birthday, and their separation from each other and final integration to the living room, Oz had his finger bitten through the bars of his cage (the culprit thus far is unknown). Well, upon inspection it was the smallest of knicks, which all of my other rats manage to get on an almost weekly basis, so of course there was no panic. However, by morning we realised that his finger had not stopped bleeding all night! There was quite a lot of blood in his cage and he was very quiet, although still came to the door for a morning fuss. We checked his foot, applied pressure, and it had appeared to stop bleeding by the time we had to leave for work. I decided that if it started bleeding again, we would take him straight to the vets that night, however, upon returning from work we found him curled up inside his igloo, still bleeding, but by now his blood had lost all redness and he was so so SO cold. 20 minutes after walking through the door, poor Oz passed away in my hands. He was the sweetest of the two - and very happy (despite being a wild baby) for ages of cuddles.
Now, we had decided that when we were happy that they were able to fend for themselves and were big and healthy enough to release, we would. But the turn of events meant a return trip to the vets - although unlikely that Max had the same clotting disorder that Oz did, it was possible that it was genetic. I had to ask myself what would be fairer to Max, releasing her knowing that she might have this horrible condition, or to raise a wild rat as a 'pet'.
I decided to try the last option, knowing it wouldn't be easy. Everyone I spoke to appeared to be under the opinion she would turn viscious and would never be handleable. However, plan B was that if she wasn't thriving under my care, I would release her.
And my god, was it hard work! I spent hours with her every day, holding her, tempting her with treats, getting her used to noises etc. I placed her cage on the floor in the middle of the living room, to put her in the centre of all the action in the house - to get used to it as soon as possible. When she was happy enough to become a jumper hugger, I took her with me to the vets in my jacket, to get her used to unexpected sounds etc etc.
And now, at 5 months old, she's a bundle of trouble but absolutely..dare I say..TAME! She begs for treats, runs around with my other girls, comes (sometimes) when I call her, loves her cuddles - she's just like any other regular rat (although she seems as jittery as a rat on a java high - we've all come to accept it as part of her nature).
Look at my gorgeous little girl now -
(most of these were taken tonight - before an hour and a half escape INSIDE my matress - no wonder she's looking innocent, she's secretly plotting!)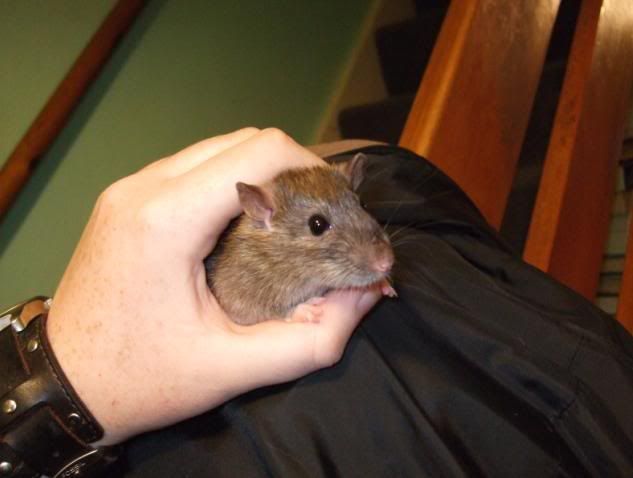 See how BIG she's got? And she's still growing!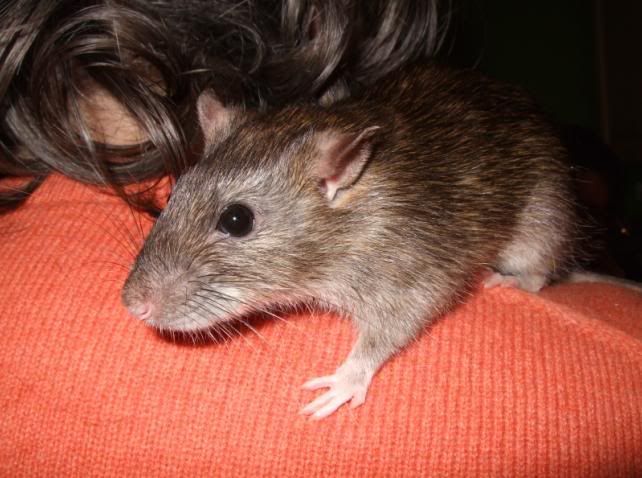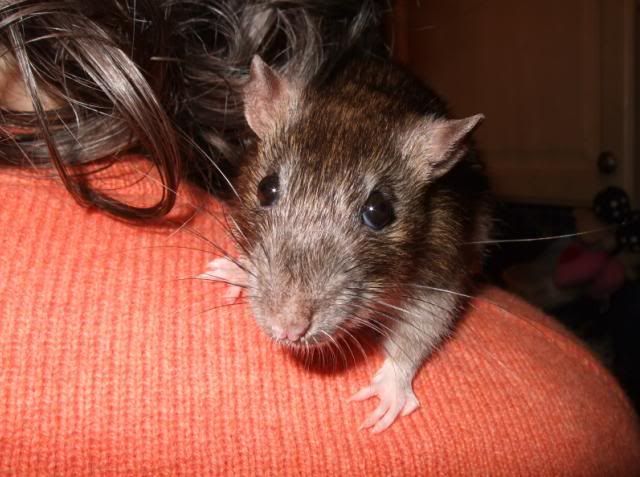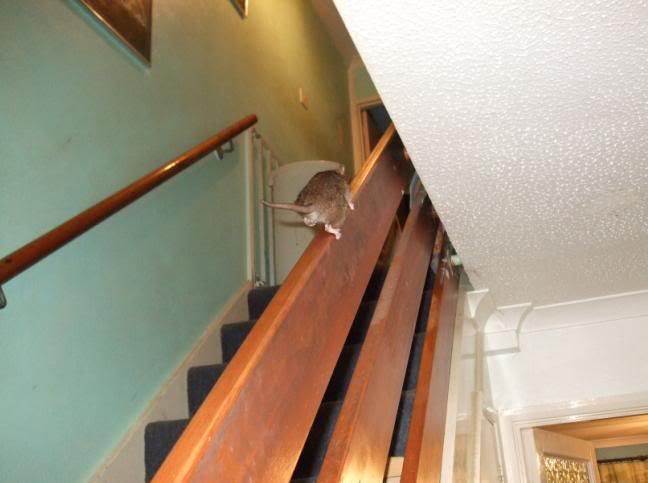 Escaping up the banister! She can climb anything!
A month ago she would never have cleaned herself outside her cage - lucky to be caught on camera!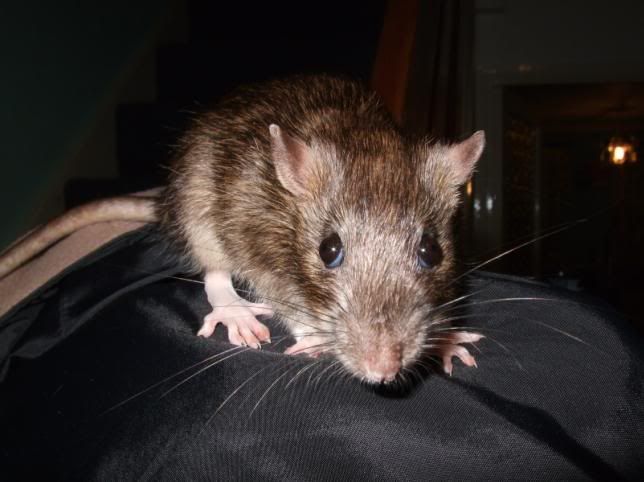 And there it is - Max's Story
Now, I don't condone keeping wild animals (especially rats becaus they are closest to my heart) as pets AT ALL. They are NOT bred as pets and their behaviour is amazingly different to what you are used to in your pet rats. I have been incredibly lucky with my Max, because she has adapted so well, which I believe is entirely because I've had her since she was so long. I couldn't even begin to imagine what she would have been like had she been introduced to me any older. My point is, if a healthy, safe release into their natural habitat can be arranged, it should be.