Discussion Starter
·
#1
·
Hiya guys!
I've had Angelina since December, she was given to me by a friend who had a bad allergic reaction to her. Doris is very sweet, but she can be a handful! She likes to get her own way and she hates to be in her cage (which is okay by me!), and she loves her treats.
She's about eight months old now and she's absolutely goooorgeous. She loves to come outside for walks with me when the weather is nice. If it's warmer she'll bounce along in my hood, if it's cooler she'll curl up against my chest inside my jacket and poke her nose out.
I don't have a lot of pictures of her but these ones will have to do for now: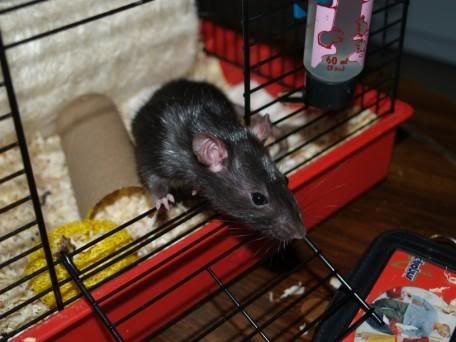 My second rat (that I bought about an hour ago!) I don't yet have any pictures of, but her name is Millicent, or Mighty Milly because she is huge compard to Angelina Doris. I'll upload photos of her when I get some.