Discussion Starter
·
#1
·
Her background is a sad one and I have been hearing about it for 1 1/2 years not able to do a thing.
The elder sister had rats and the younger sister (17 at the time) decided "I want too...!" Well she got them and was good for about a month and then the novelty wore off. The younger sister has issues and told Bron the good sister "YOU are not allowed to touch my rats!" and the parents enforced this rule. For 2 1/2 years these girls were starved at times, lived in a small filthy cage and never let out, etc.. Then the weaker girlrat got sick. The younger sister moved their cage down to the dark moldy basement because the sound of Keira's breathing was keeping her awake. It got worse. Keira died untreated 4 days ago and the younger sister screwed up her courage and arranged a Prison Break for the remaining girl. She met me last night in a dark courtyard and handed this 30-32 month old girl over to me with gladness. The poor thing is tiny (232 g) and confused but very very sweet. She's only been handled in the last 6 months by the eldest sister who would sneak down and hold her and give her carrots in the middle of the night when everyone was sleeping.
Soo meet my newest lil girl, Guinevere, who I call Gwinny.
Last night, home at 1:30 am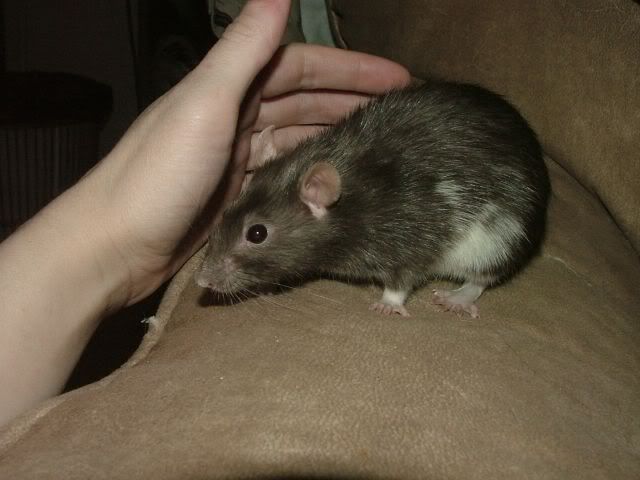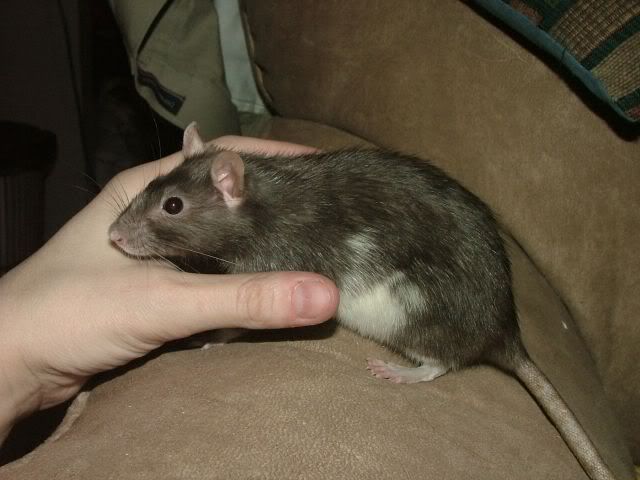 Her first cage with hammies, toys and houses, and completely clean!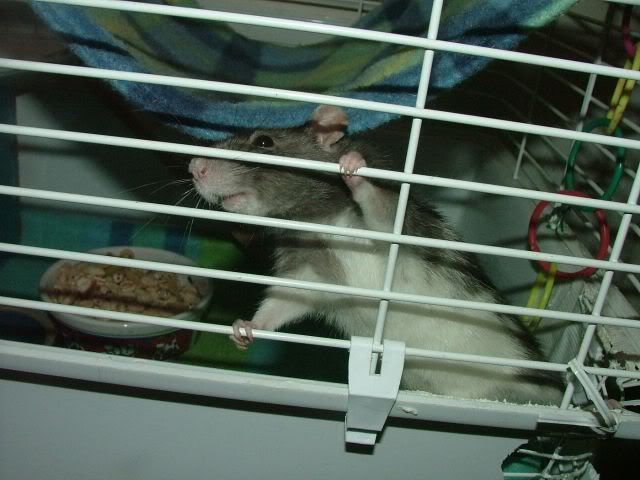 This morning, she was more relaxed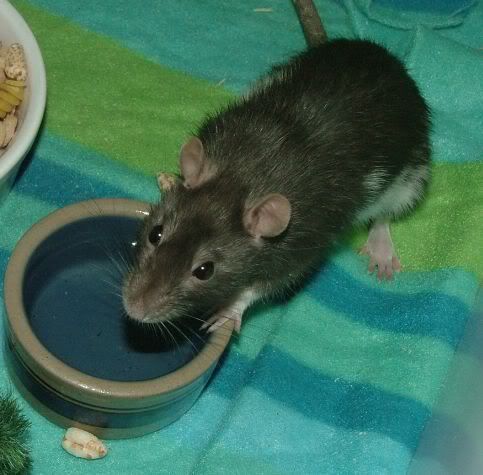 And even when I would pick her up to treat her or weigh her and then put
her gently back, I got used to this face running up to the front. I talk to her often as I walk by and she is soo responsive to me.
I think she thinks Shelagh TV is the best thing evah!!! All this stimulation and contact after rotting in a basement for so long.
I'll continue to update everyone so you can see the change in her expression, when she starts to realize its "for real" and she is safe and loved and wanted. The trust will build, the tension in the face and ears/eyes will go...its a lovely thing to see in a neglected rat. :mrgreen: