Discussion Starter
·
#1
·
Well, I thought it about time that I introduce my bunch of troubles!
This is Katie, oldest of my lot (she's now 2 years old) and, as you can see, hairless (well, double rex but yeah). She's very much expects 'Your Majesty' treatment - she's happy for cuddles, so long as SHE'S the one cuddling YOU! She's also got a bad habit of taking a rat nugget, having a bite or two, then picking up a brand new nugget and leaving the first one!
Sensitive content, not recommended for those under 18
Show Content
This is Jake, my oldest male and again, a hairless. He's a lovely boy (and HUGE) but quite shy. He's recently discovered the floor, and with the floor he's found a lot more confidence, so he's finally joining the rest and turning into a big ole bundle of rat-pain-in-the-butt. LoL
This is Ritchie. He's looking grumpy for a reason. He's got an on/off skin condition right now, so his skin's all red and itchy, and he's just got over a mouth abcess. Bless him. Other than that, he's a nuisance when it comes to exploring. You can't keep him away from the girls cages!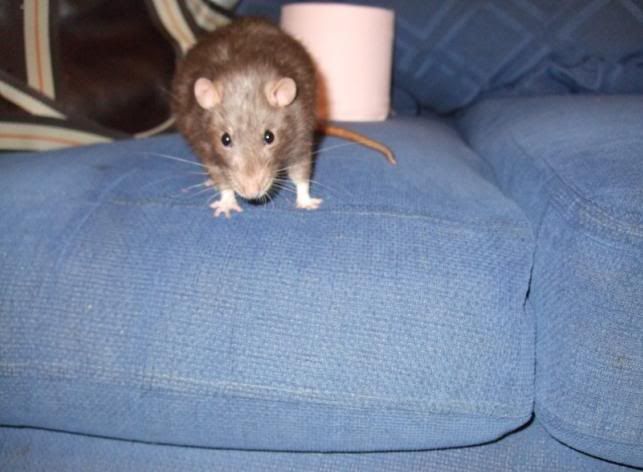 Hola's to Andy! He's an odd little boy, shy with people but packed full of confidence once he hits the carpet. He's the only one of all my rats that will brave the wrath of the cats and escape out of living room (or bedroom) the second the doors open to wreak havoc on my mum's bedroom. Lol. He also hurt his leg a few months ago, and when he runs now his tail runs with him - at a 90' angle to his body. It looks very odd! (But xrays show it's fine, don't worry!) Lol. He came with his two brothers, Luke and Eddie, who have both died
and he misses their company dearly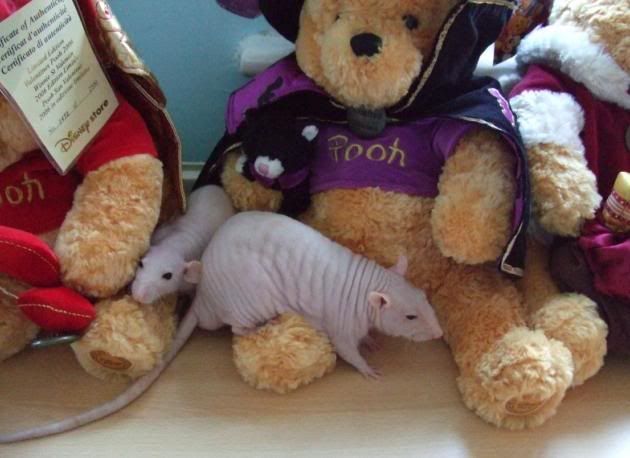 And this lovely is Ben (the one laying over Pooh's leg) at one of the rare moments he allows me to take a pic of him! Ben was my first hairless male and he's a strange little character. When he was younger, he had a 'fur phobia' meaning if any rat with fur came near him - he cried like a baby! Lol. Now he's grown up a little, he'll happily take on the smaller boys for a brawl, but even now, if anything big and furry comes his way - SQUEAK! He's also known 'Sexy Ben' because whenever a girl hides in the sofa and refuses to come out - just holding him nearby will tempt them out quicker than using any of the other boys! Lol
This is Gus and he is a proper ladies man! He's an adorable little fella who loves his cuddles. He's afraid of absolutely everything though, so the closer he is to you, the safer he seems to feel. He is brother to Jack, however, after Jack got a little boistrous one day and cut open Gus' tummy they've been in separate cages. Now they're quite happy playing together (75% of the time) all over the sofa and bookshelves!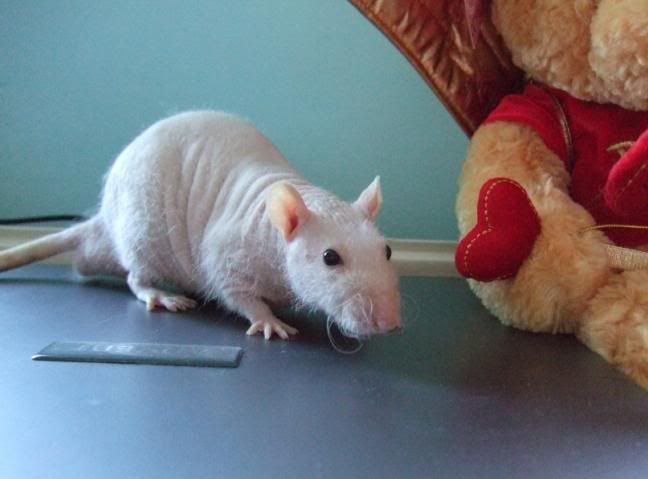 And this is Jack! He's got one of those personalities that mean EVERYTHING is a game, even if it means teasing Ben and Jake - when he loses an eye or a tail, I'm sure he'll learn his lesson. Until then, I'm sure he'll continue to harrass them through the bars of their cages! Plus, don't you think he has a lot of hair for a hairless? Lol. And this is before he grew his winter jumper!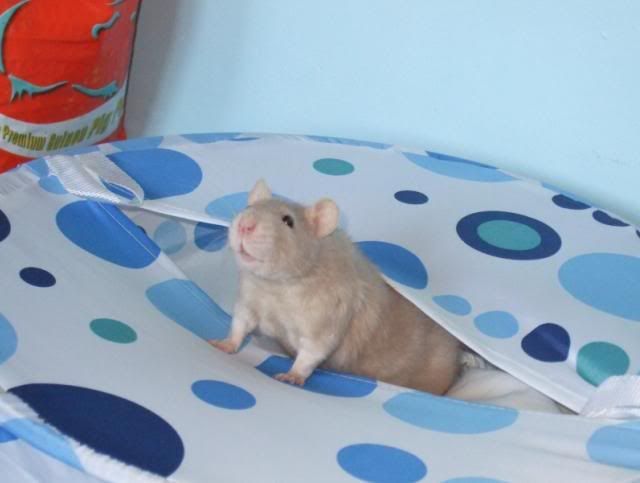 LouLou in the laundry bin - doesn't she look cheeky? She's just lost her sister, T-baby, so she's being given lots of extra loving. She's a lovely little (although she's HUGE) girl, but kind of mean to the other girls. She has the social etiquette of Jaws. She does get on quite well with Katie though, they love a sleep over in each others cages.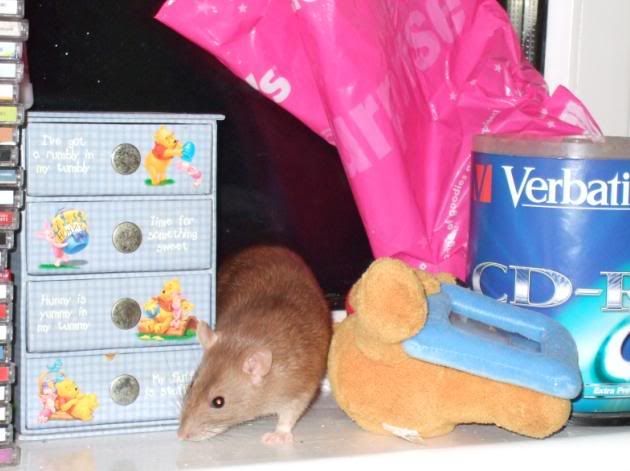 Lol, this is Ivy, my super fat little girlie. She is so spunky she keeps me laughing all day. She's terrible for dinner-knicking. The other week she ran off with a whole sweet and sour pork ball and it disappeared - until a week later we saw Katie had found the half that was left and was running it behind a different sofa! Lol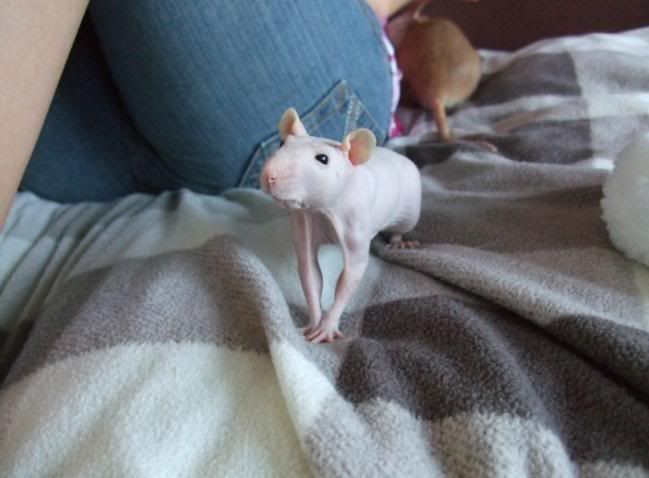 This beautiful little thing is Daphne. She's fully grown, but the second smallest of the bunch. She's incredibly petite and delicate about everything she does - except when it comes to scrapping with Ivy (her cage mate) and she'll deck her every time! (Please bare in mind that Ivy is at least twice the size of Daffers! Lol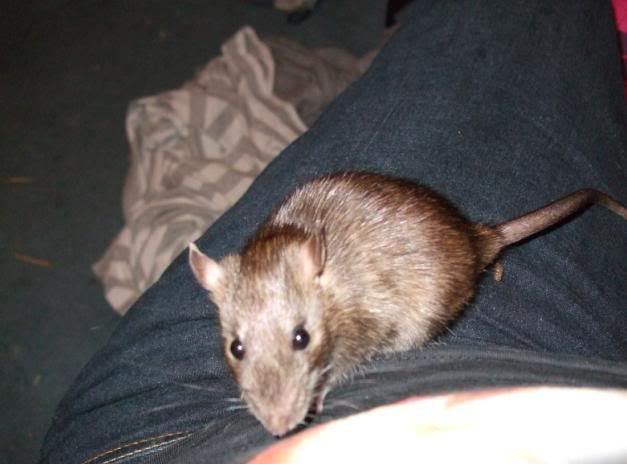 This is Max, my little miracle. We adopted her and her brother from the vets after their nest had been dug up in a field by builders. The nest was destroyed and all the other babies died, but the builders bought them to the vets who called me - being the crazy rat lady - asking me to foster them. They hadn't yet opened their eyes, so we had to hand feed, potty etc them for a few days. And, well, now look at her! She's tamed VERY well! I thought we may have had problems, but she's never bitten/tried to bite and loves to have a run around in the bedroom - she even makes sure she runs back to me to make sure I'm still around! Lol. She's VERY smart, she'll run to me when I call her now, which she never used to do and LOVES to jump. Unfortunately though, her brother Oz died at 6 weeks old because of a clotting disporder. We never released Max back into the wild for fear she had the same problem - as it turns out though, she's absolutely fine
The following 4 little girls are my most recent additions. Lily, the smallest of the 4, is a mini whirlwind of trouble. She's completely addicted to trying to rip open all my JUST WRAPPED christmas presents! And she can scale a chest of drawers to get into my wardrobe. Other than that, all of them seem to have been thoroughly spoiled by their previous owner (they had to be given up because the previous owner was going to be kicked out of her apartment unless she got rid of the rats) and love to cuddle and play.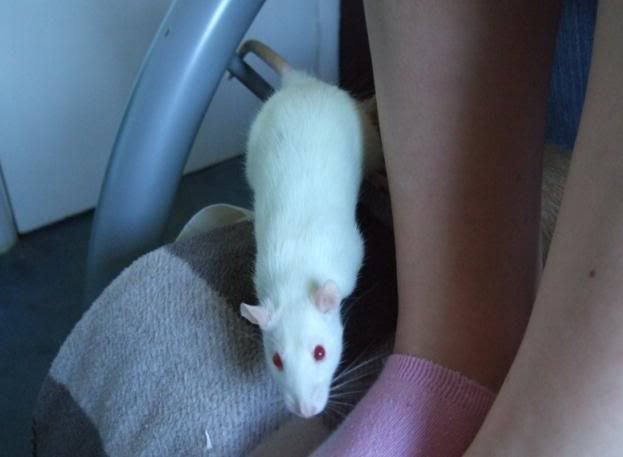 Lily!
Kitty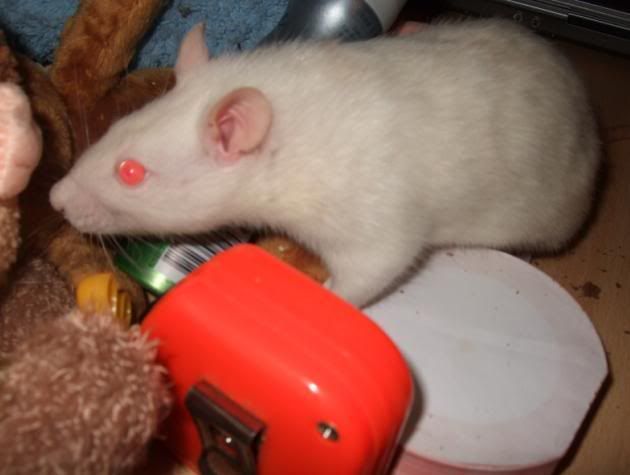 Jennie (a photophobe!)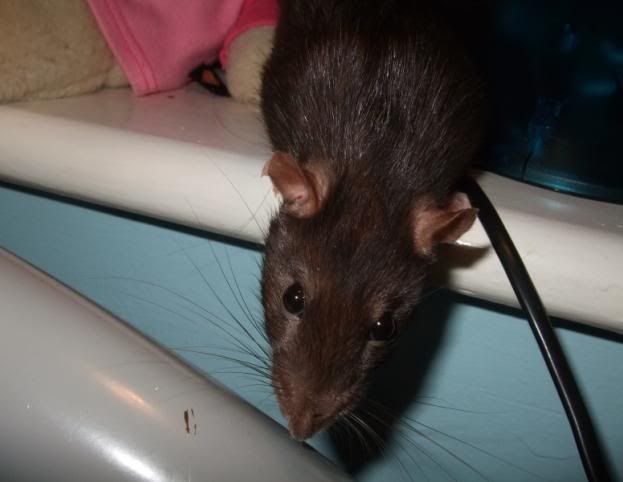 Niki
I hope you enjoyed meeting them! Lol