Discussion Starter
·
#1
·
I haven't posted any photos of my girlies home, so I thought I'd put some out there for ideas. Mostly I'm trying to rig different hammock places (and some of the odd ones have been real hits, like the tiny triangle one up in the left corner over the wheel, while the big standard one has been ignored). But if anyone can think of any toys or other ideas that call out to them, please, go for it!
It's 21 inches wide, 16 inches deep, and 19 inches tall. A bit on the small side for two girls, I know, but they get lots of out time, and I had to have a cage in my budget and in my ability to take home with me.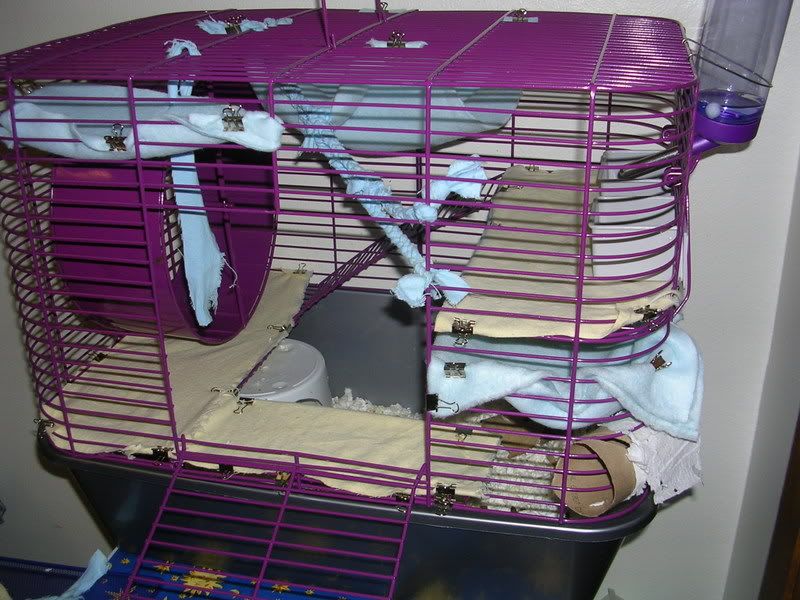 Whole view. It doesn't photograph very well because the bars are so close together, but that gets you an idea about how big it is.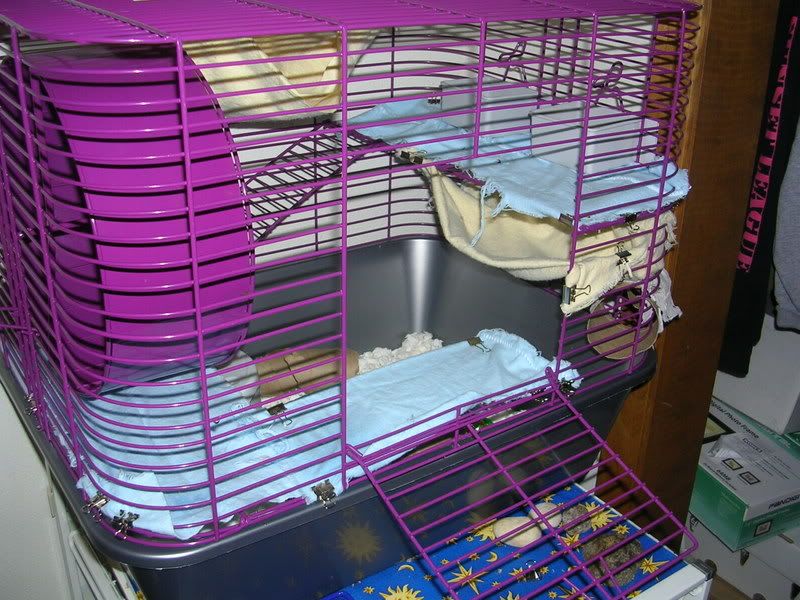 It's a little confusing since my theme colors (aka, whatever's on sale at WallMart and clean when I need to clean) have switch! Now the hammock is yellow and the floor coverings are blue. But you get the idea.
Close up of their faaaavorite hammock. Sometime they share, and sometimes they try to have power wars with each other over who gets to sleep in that hammock. Sevilla usually wins, so I made Belgie a little one for herself somewhere else.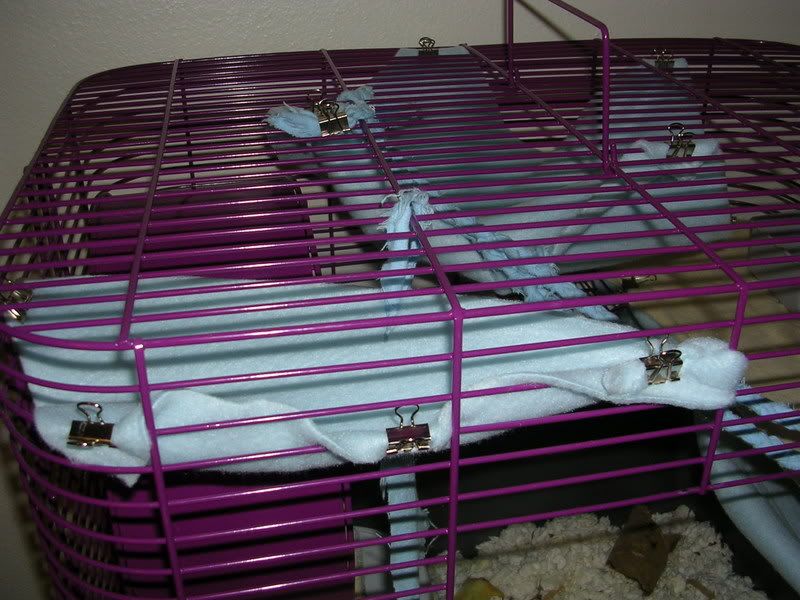 Belgie's little hammock. It's quite small, just barely big enough for her, but I wasn't doing anything else with that corner, and it has a great view. Although now I have a little piece of fabric covering the top of the cage right there, I think it makes her feel more secure. She likes to watch me in the morning while I sleep, so she can start begging to be let out the second I'm awake. Actually, it's kind of creepy sometimes, in a cute little way. My own rat is stalking me!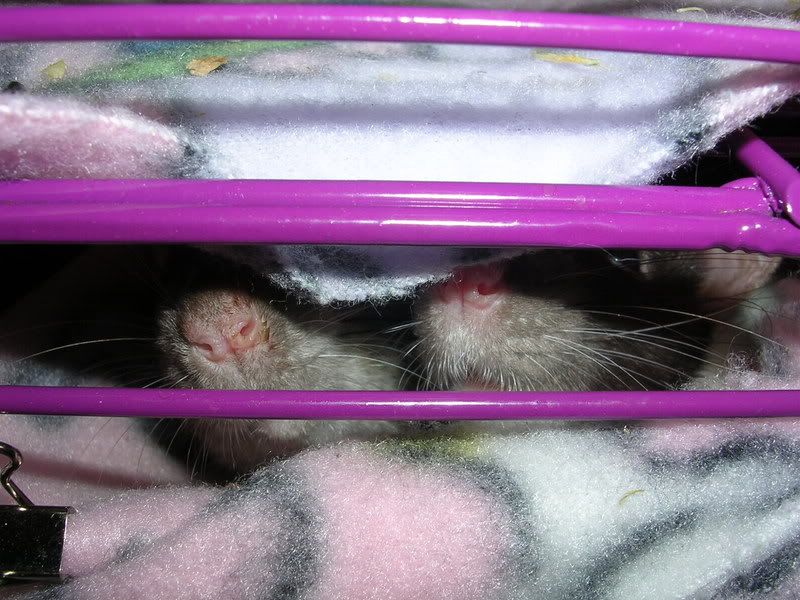 Ratty noses! In their favorite hammock under the shelf. This is also their favorite material, because the fleece is really soft. In case anyone was wondering, fleece is a big favorite over flannel for sleeping hammocks.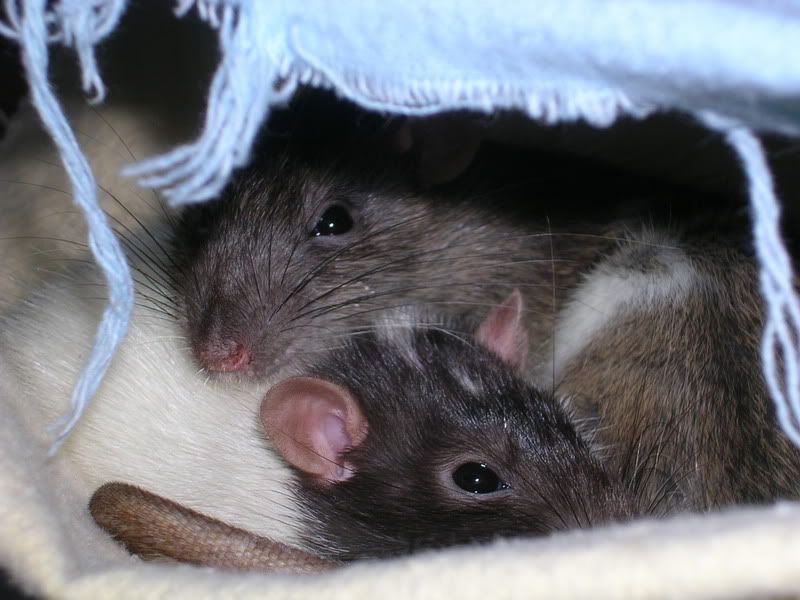 Sleepy girlies, sharing the hammock.
Belgie, emerging from my jeans on their play bed.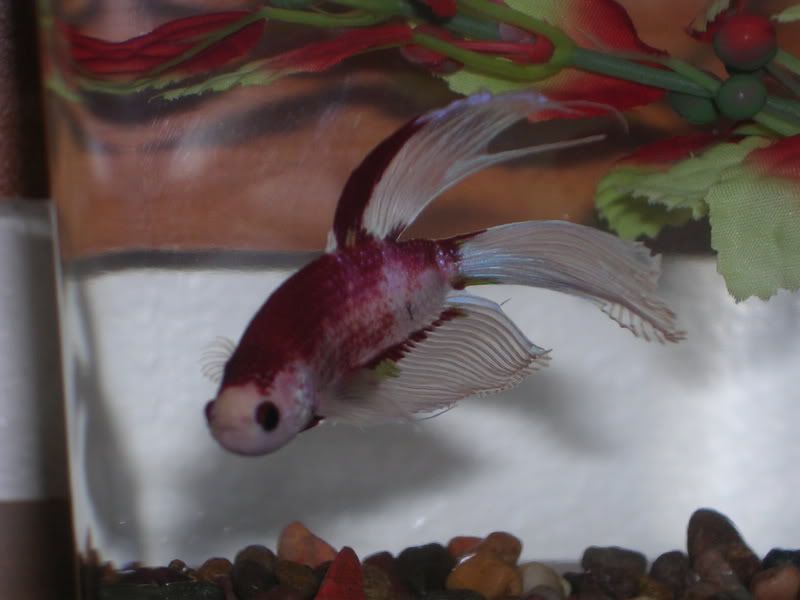 And I know he's no rat, but this is Rupert, my new betta. He was in pretty dire coditions at the store, and somehow my boyfriend talked me into ANOTHER pet.