Discussion Starter
·
#1
·
i keep asking for pictures of everyone's rats and have not yat posted any of mine so here they are!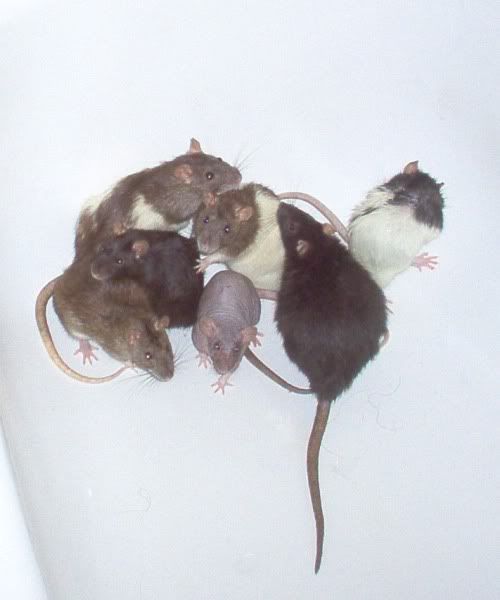 from left to right is Twix (the mismarked berkshire agouti, age: aprox. 8 months), Tween, her sister, is on top of her (a black mismarked berkshire silkie, age: aprox. 8 months), above her is Kakushi (agouti hooded with the large dorsal stripe, age: 9 months), next her is her mother Iedani (another agouti hooded, age: aprox. 14 months), the hairless is the middle is Sweetipie (a contributing factor to why i'm keeping my current boyfriend for a very long time! she was the best christmas present i got this year, age: aprox. 3 months), the big fat one is Spider (a black self, 26 months) and the camera shy one is my foster baby Violet (a black hooded, age: aprox. 11-13 months).
this is Sesshoumaru (the cat) and Spider. Spider absolutely LOVES Sessho's big fluffy tail and for the most part he doesn't seem to mind, so long as i don't take blackmail photos anyway... *grins*
i have many more pictures of the rats, past and present in my photobucket account.
http://s2.photobucket.com/albums/y12/Twitch-6/rats/?start=all
(tell me if this link works or not, i'm not sure i did this part right)