Discussion Starter
·
#1
·
These are my 4 babys.
This is Una my "wild" girl. I named her Una becuase she's the "one" ratsy I've owned of her color.

This is my lovey girl Eskyda. She will give me kisses as if the world were to end if she didn't. :wink:

This is my Nezume. Nezume is the Japanise word for rat. Nezume is the jumper of the 4. I think she lives to jump!! :lol: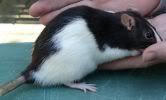 And last but deffinitaly not least is Velvet my dumbo. I named her Velvet becuase she has the softest/silky'st fur out of all 4 of my babys. And she's the digger of my 4 babys. I swear if I took her to the beach or anywere she could do alot of digging she'd dig till she died!!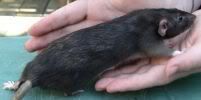 And if anyone can tell me what the name for the color patterns on Una and Nezume are that be great.