Discussion Starter
·
#1
·
Since I'm new here, let me explain my setup: I've got a few cages... Two of my boys are alone right now... One is old and has an inoperable tumor. He's living the rest of his life in luxury. He's a social guy, but when his cage mates started scratching him up, and he started nipping at them, it was time for a bachelor pad. He's in a smaller SuperPet cage. My other is one of those rare rats that can't be with other rats. He was okay until he snapped one day.
A lot of the others got hurt that day (all are fine, no lasting effects!). So he lives in a [half of a] huge SuperPet cage. My third guy not in the FN is still in quarantine. He'll be living in the cage below when that's up.
Now that we've got that explained...! Here's my Ferret Nation. I love it, best cage ever! I've got 5 boys in the top section and 6 on the bottom. Soon, we hope to have them all in the whole cage. We had one failed intro, but hopefully we'll be successful this time around.
We use fabric liners and have litter boxes with rabbit pellets for the litter. Works like a charm!
Okay, now that I've babbled, here are the pictures...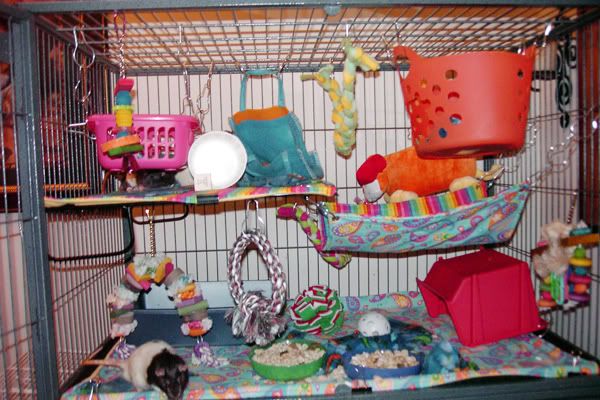 The top section.
The bottom section.
Instead of posting all the pictures of various areas and ratties, I'll
link to the album
.
Ferret Nations are my favorite cages now (having gone through Martin's, SuperPets and now Ferret Nations), and I hope to get another one shortly. My singleton can go in one half, leaving another half for... Well... We'll see. :twisted: