Discussion Starter
·
#1
·
So today I became the pround foster mom to a momma rat and her 12 eepers. I'm fostering them through the local rat rescue here in New Brunswick, and all will be available for adoption after they turn 5 weeks old
. Momma will be available after weaning. Mom, Dad, another male and the babies were surrendered by a family who had them living in a storage cabinet. The mom was seperated out (thankfully) when they realised she was pregnant, into a smaller storage cabinet. Clark was contacted afew days ago by the family who didn't want to deal with them anymore.
All three adults are VERY skittish of people, and Mom has shown herself to be a little nippy, which is understandable considering what she's gone through in her life. These are all obviously neglected rats.
I had mentioned to Clark when I moved closer to him that I would be interested in fostering a pregant mom or mom with a litter, so he got in touch with me as soon as he found out about these poor babies. They got to my place around supper time tonight, and I'm letting mom be so she and the babies can settle in. The only time I disturbed her was to give her some babyfood. Poor thing didn't know what to think of it at first.
So I'm sure you're sick of me rambling on, so i may as well show you some pictures
. We'll start with Mom.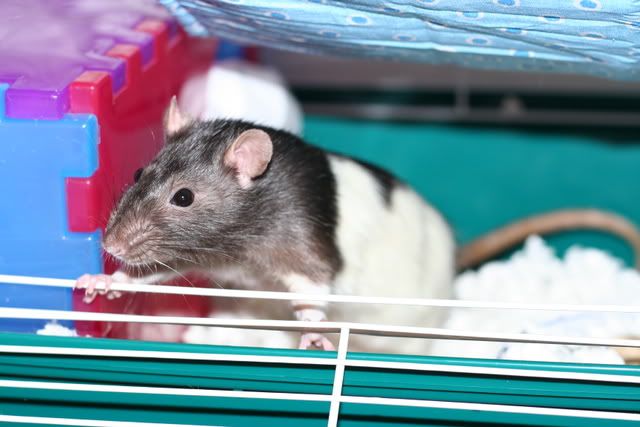 Does anyone have any naming suggestions? Clark and I are both drawing blanks, and this darling deserves to have a name.
Some group shots of the babies in the cage Clark brought them to me in. Never fear, it's aspen they're on
. I have them on carefresh ultra now.
No individual shots yet, but maybe tomorrow. I have the whole day off, and no responsibilities (except cleaning the FN) until 3:00.
Keep posted for updates as they grow!