Discussion Starter
•
#1
•
So today I picked up two female rats from CL. They were being advertised as free and have been on there for about a week. I've been thinking about it for a couple of days so i finally just emailed the lady asking if they were friendly. She replied with yes and so i decided "Oh well I'll just go look." I ended up bringing them home. They are sooo sweet. They were on pine and eating seed mix. Their cage, though huge, was completely BARE.
Also, they might be pregnant. I asked the lady when the last time they had contact with other rats and she said she lets them play with her male rat on occasion. *sigh* i couldn't leave them.
So my clan has now expanded to 11. I'VE HIT THE DOUBLE DIGITS. Lol.
So the new additions are Emily Strange, a completely black dumbo, and Bubbles, a blue hoodie. So sweet. So curious. They are already just jumping out onto my hands.
They're kind of sneezy but I hope it's just from the pine. They're being quarantined as best I can in the same house.
Keep your fingers crossed that no one is preggers.
I'll post some pics tomorrow.
EDIT: Pics!
Introducing, Paprika and Rem!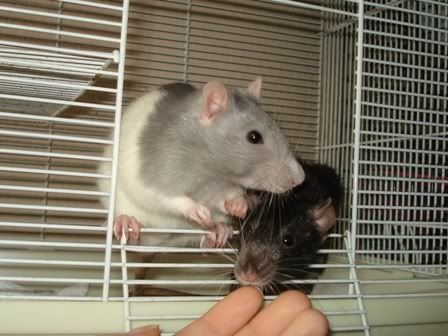 Paprika is the blue and Rem is the black.
Rem is a little shy. She doesn't seem to want to venture outside of her cage yet, but she will come to the door for loves. She loves to groom my hands too.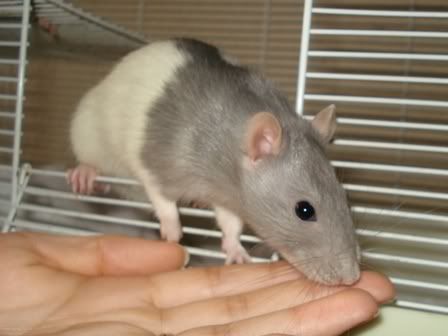 Paprika. She is VERY friendly and outgoing. She knows how to open the door of their cage too so I had to make a latch to keep her in. She loves to be out and about. She licks constantly too.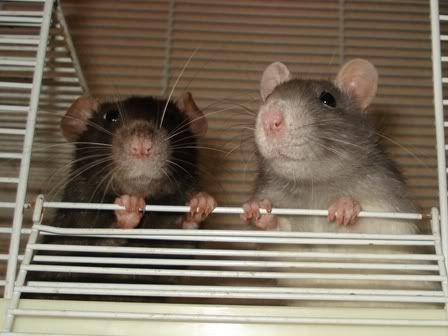 I've only had these girls for a day but I am completely in love.