Discussion Starter
·
#1
·
Hello, My name is Armando. I'm from Chicago, IL in the US.
As of yesterday I'm now a rat parent.
My neighbor knocked on my door before I left for holiday last week and asked me if I wanted his rat since his wife was anything but thrilled about it, he bought it last month. Their household was a total zoo as is! lol They have cats, a dog, mice, gerbils &fish galore! I told him to give me a week to decide, during which time I read through a rat magazine and an owners guide on them. Yesterday I decided and went and picked up my first ever rat! I hadn't seen him until I went over to get him. I figured if I knew what he looked like ahead of time I would of probably said yes without really thinking it over.
Here he is...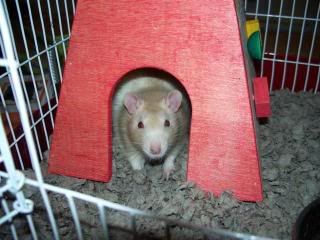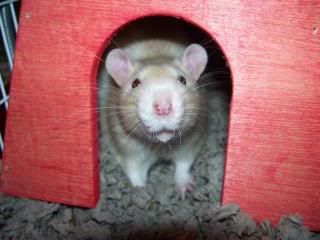 I ended up naming him Chace.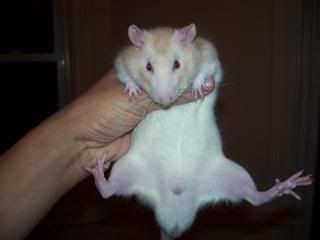 He's so tame.
Now the cage they gave me was like one of those starter ones so today I went out and got one a little bigger, its just temp. I plan on getting a bigger one eventually after I research specs and the popular vote.
And ofcourse since I did my research and talked to a few people online I also went and picked up a brother for Chace. This is Hartley...
The intro between them went really well!!! I expected shrieks and bites. Go figure... lol Now please don't jump all over me, In what I read I hadn't come across any quarantine stuff until after the fact.
Here are some pictures of them exploring their new temp pad. Its twice the size of the starter cage that Chase came with. And of course its a start. I had no idea how smart and cool rats are... from nest building to caring for eachother when they get sick... its been some fascinating reading!
Chase is the lighter & bigger of the two.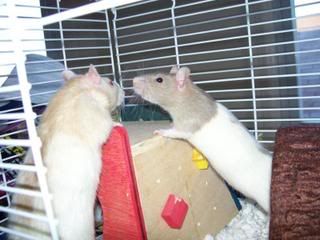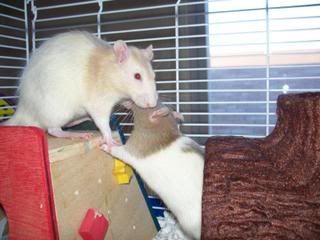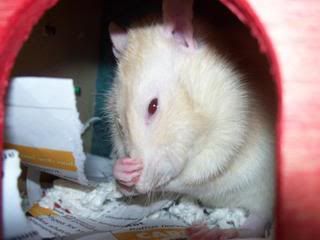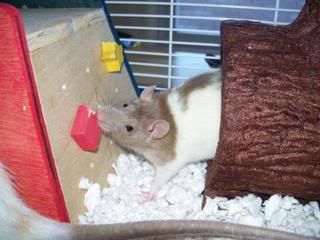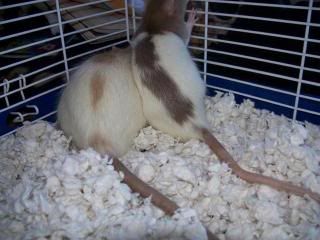 I also have a ferret named Napoleon, who I've had for three years now.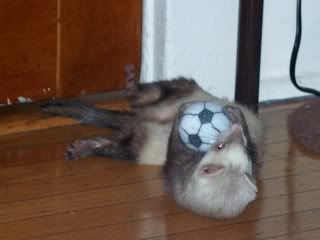 BTW They aren't even in each others line of sight and Chase & Hartley's cage is way out of reach so no nibbling or encounters are going to be happening. =)