Discussion Starter
·
#1
·
Hello! I've been reading a little bit here and seems this is a pretty nice place!!! Unfortunately, the two rats I have now MIGHT have to have a new home found for them (it's a long and somewhat sad story) due to uncontrollable circumstances
It's a shame really. Still so young and goofy (and also a little dumb!)!!! Anyway. I live in Minnesota, I'm 19, girl, and love all kinds of Small Furries. But please, don't take "furries" out of context :roll: (I happen to NOT be a fan of those hehheh) I've always liked little pets. I suppose it all started when I was old enough to have pets. My parents are Fun Nazi's and I was never allowed to have big pets like cats or dogs and so on Christmas Eve when I was about 3 or 4 I received my first tiny pet. A Dwarf Hamster I named Ratley. I kept her for a year or two but was sad to find her dead the morning after we moved into our new house. Since Ratley I've had a few bunnies <3, three mice (named Peetree and ... It seems the white Meeces' names have slipped my mind!!) and a Guinea Pig named Jack-Man-Du, plus Finch, and a turtle (that I received for my 9th birthday and still have now, he's a cow) and lots of goldfish <333 They are my favorite animal! I have 30 goldfish right now but only 20 are pets, 10 are looking for loving forever homes. Like I said, I'll be sad if my rats have to go but when the time is right I shall have a wonderfully cheery and large brood!!!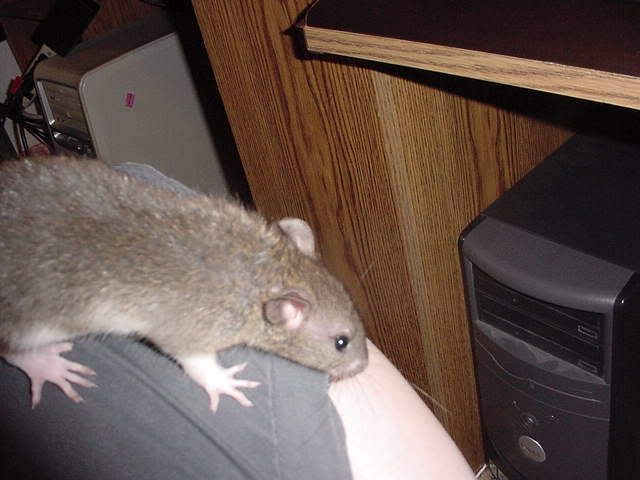 This is Hima when I first got her. I just love her wild grey color!!! She's kind of a spooky rat and never really did fall in love with me (and people in general) like her cage mate Penny.
Sadly I don't have a picture of Penny. She's a Black Hooded Down Under (I think) Dumbo <33333333 She really is a dumb rat though. I can hold her armpits and she just hangs there and stares. No helicopter tail, nothing. I took a hand held vacuum once and stuck it on her nose and she didn't spook, pull away, ANYTHING. She just sat there with her snout stuffed in the end of it. The only thing that motivates her are Yogies. And the very occasional pinky-finger nail sized amount of vanilla ice cream!!! She has no fear of falling and tends to plop onto the floor a lot.