Discussion Starter
·
#1
·
I got my nebulizer last Thursday and started Odin on home nebulising treatments Friday. He had one treatment Friday and then another today. He seems to hate it more and more and nearly breaks out of the tub. I have to watch him closely because I'm sure with much effort this nearly 700g (well, close enough 650-670g) fellow could do it.
It's just today, he seemed aweful. He seemed lethargic and he doesn't seem to have much energy. I'm going to keep an eye on him later tonight. But he didn't run up to the food bowl when I put a TINY bit of grain mix in for a treat after his treatment. Here he is today before his treatment: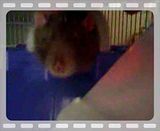 and here he is during the treatment. Warning, it's a little heart breaking to see him in there. He struggled worse later on, trying to get out D: There is a hole on the side he tends to hang around and try to breathe out of. The nebuliser pumps in fresh air and medicine combined but he hates it. Poor fellow: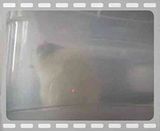 I just don't know. He doesn't seem happy and doesn't seem to be getting any better. I'm going to wait and see what he's like after a few treatments then get advice from the vet. He's only being nebulised with 1cc baytril and 7cc of saline and on her advice she told me to do it 3x/week. At first she suggested every 24-48 hours but for some reason changed it to 3x/week when I went to pick up the medicine D: I hope to get a script from her because I found the Baytril online for much cheaper.
I'm also wondering if I shoudl bring up putting something else in the mix as well? Any advice is appreciated I really want my poor one eyed big guy to feel better. He's a big sweety once he does.
But yeah, if this doesn't start to work and he just continues being like he was today I think it's time to put him down. When do you know? I hate to see him suffer, it isn't right.