Discussion Starter
·
#1
·
This is on several forums but I thought I would start one here for the members on Rat Forum. Its a nice way to remember our little friends who have gone ahead of us.
I will start with my huge group.
I haven't been posting on here as much (busy with RL and some very sick rats) and some of the members may not know me as well as others. In here its "Know My Rats, Know Me". :mrgreen:
2007 started off badly but tailed off after that. It was technically a better year than 2006. :
Some people already know about most of my babies that passed, but others may not, so I am posting them all here.
Tikal to PT at 17 months
Sebastian at 38 months, blind, mostly paralysed, independent, but ohhh so happy. A once-in-a-lifetime rat.
Rafiki at 23 months, one of the original Biter Girls I adopted.
She and Sebastian bonded and fell in love in less than a week before I let them go.
Ariel at 17 months, one of my Stratford Rescue Rats, who is now immortalized under Pituitary Tumor Figure 2 in the Ratguide.
Talli, the remaining oldie I took in from the local HS. Her sister was only with us for 1.5 months, but Talli stuck around, biting turned to nipping, then to licking...
Maddy came to me when Notamuised was going through some hard times. We fought hard with a throat abscess, but in the end we had to stop and I let her go peacefully when she was 28 months old
Selene at 25 months, my brave big warrior girl, is also immortalized on the Ratguide under Pyoderma Figure 4. What an amazing and inspiring rat she was. I miss her terribly.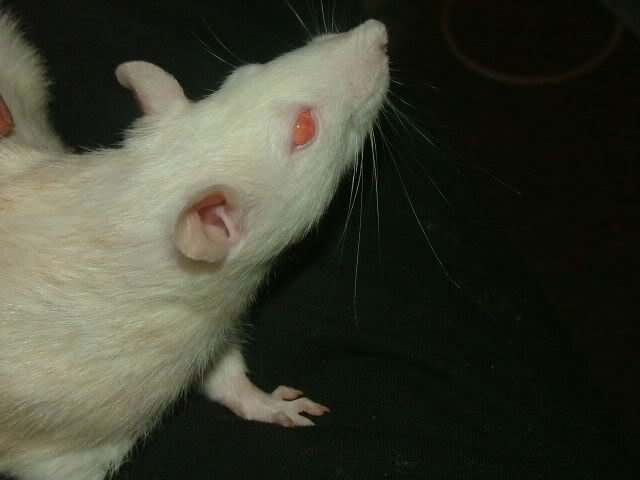 Hestia at 26 months, to an ulcerated tumour...my poor standoffish girl ended up being the sweetest thing in the world.
Ortiz at 13 months old, my little Wildling who had what we think was a defective heart. He went downhill so fast we never got a chance to see if the heart meds were working. He left me in true wildling fashion, with a big bite and a pool of blood. :heart: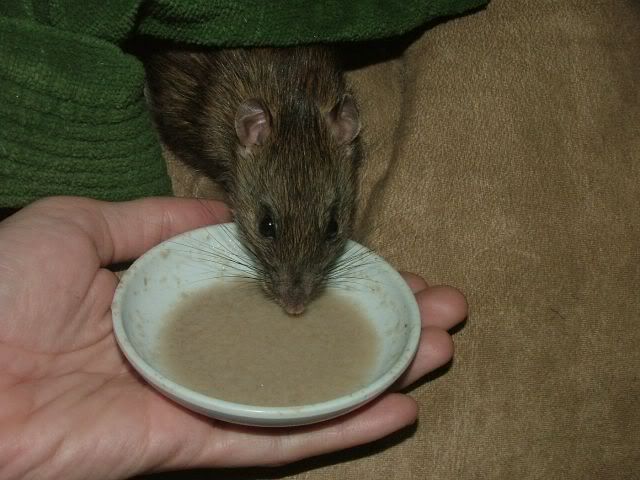 Portia, Ariel's sister, at 24 months, the last of an era of my Special Rats (I used to call them my Happy Rats, they would accept oldies and sickie strangers in their midst and take care of them until it was their time to go...).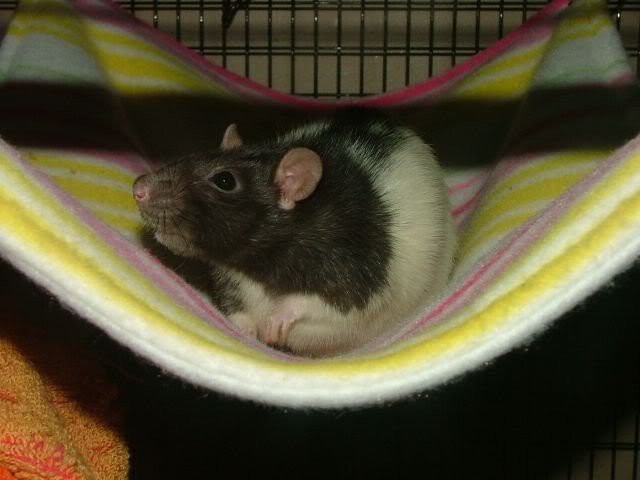 Kamali at 21 months to a chronic URI that wouldn't be treated anymore. Kamali came to me as a 4.5 week old baby on a special rat train from New Brunswick. This wee girl picked me. I picked her up and she settled calmly in my hands and slept there. Then she crawled to the back of my neck and slept there too. I was afraid to put her back in with her identical siblings because I would lose her. Someone kindly brought out a Sharpie for me
A real sweet lady this one. The first of the original Horde to pass. *sniff*
Dilbert, my goofy, bouncy boy nursemaided her constantly. He was always nearby when she wasn't well. When she responded to her meds, he would be off, but I would know that she wasn't well again when her beloved shadow was beside, under her again. He was soo gentle with her and was depressed for days after I took her in to be pts.
I miss them all very much.
And I have a wee old one leaving me any day now. Mattie has been here a month and has had a small stroke and a much larger one. She regressed the last few days and I am sure she is going to quietly pass very soon.
Mattie when I got her.
Mattie fighting back after the 2nd stroke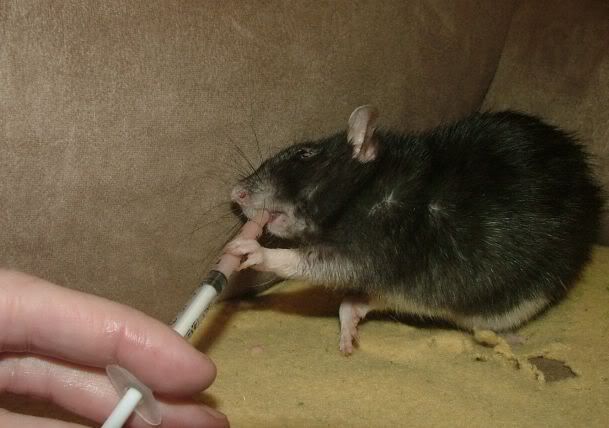 Mattie regressing
and Mattie last night after a bath...the grooming of the Nasty Wet was exhausting, even with my help, so she had a little nap. :heart: