Discussion Starter
·
#1
·
I have a sweet old fat girl I took in last April, who is a passive loving but timid girl with other rats. She had a special cagemate that came with her, but sadly my sweet Maddie was only with us for a short while, and after a battle with a throat abscess she left us. After that Shadow wanted to be loved by other rats but they didn't seem to want to oblige. They passed on one by one and she was left with Rennie, the Wildling's mom who is a bit "wired-wrong" and would regularly pin Shadow and stamp on her and make her scream. There was no grooming or cuddling in hammocks...but Shadow just took what she could.
I took in a sweet little old gal from a friend. She had taken in 2 neglected oldies but the cagemate had to be pts. so I took in Mattie since I was hoping I could finally find Shadow a good friend. Mattie is sweet but hasn't quite bonded with Shadow plus she is having her own issues right not. We think she may have suffered a mini-stroke...sigh.
I then I fostered 2 older gals for the same girl and the previous owners donated the ALT cages to us.
I just got mine yesterday and had a blast setting it up for the 2 girls. Rennie got even worse and I finally decided Shadow at 28 months didn't need to put up with that anymore, so Rennie was removed.
I intro'd the 2 older gals to my neutered new boys and it was wonderful.
Shadow is finally truly happy again.
Shadow, Wilbur and Otto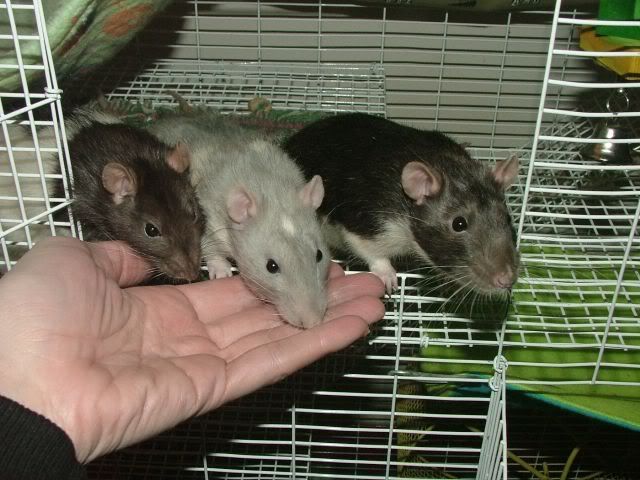 Wilbur, Shadow and tilty wee Mattie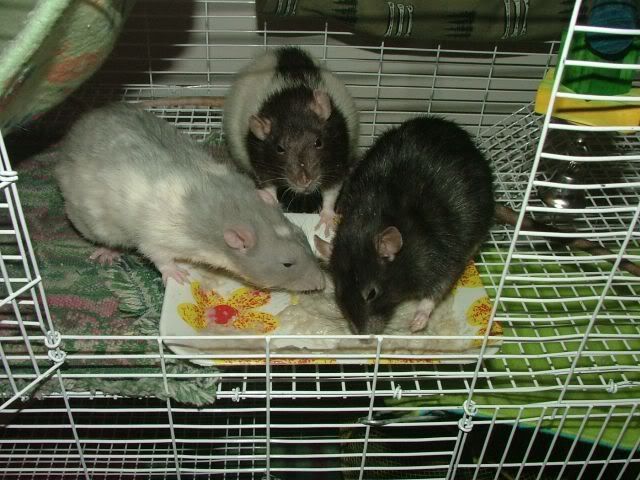 and this is the scene I woke up to
Shadow is happy again.