Discussion Starter
·
#1
·
"My" rats, Bacardi, Pernod, and Guinness! (My roommate started the trend and every pet since has a relatively boozy name. Except the fish... Drinks like a fish is far too obvious. :lol: )
Bacardi (And his favorite treat):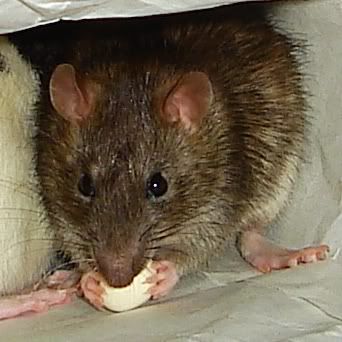 He's the oldest, very docile, loves my roomie very much, tolerates me. Will sit on shoulders, but prefers hoods.
Pernod (After burying any number of his toys):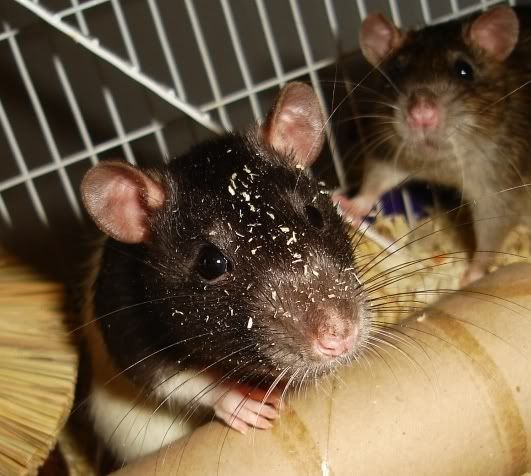 He's the middle child, the laziest, and the most prone to biting. Usually I'm on the receiving end (after he bit me when we got him - poor little guy was scared - my roomie doesn't much like to handle him.) He doesn't like to be roused from his naps in the hammock for anything, food, the end of the world, nothin'.
And Guinness (Exploring their Easter present):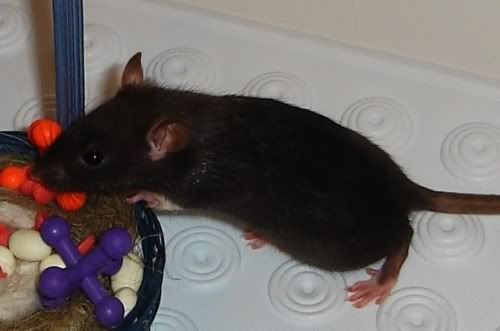 He's the newest and by far the most energetic (His nickname is Tweeker.) He will tolerate being held but isn't quite used to us yet. Beyond that, we aren't really sure of his personality yet, but for that he seems very sweet.
I'm not really sure what to call Bacardi's color... Is he brown? Or agouti or... something? Gah, I know nothing about these boys... Perry's hooded, I know that much... Black hooded, I guess? And Guinness... He's got white socks and a white spot on his tummy and a white tip on his tail. That makes him... Berkshire?
Aw well, at least they're cute.