Discussion Starter
·
#1
·
i've been talking about this cage for ages, i'm sure many of you will remember this picture: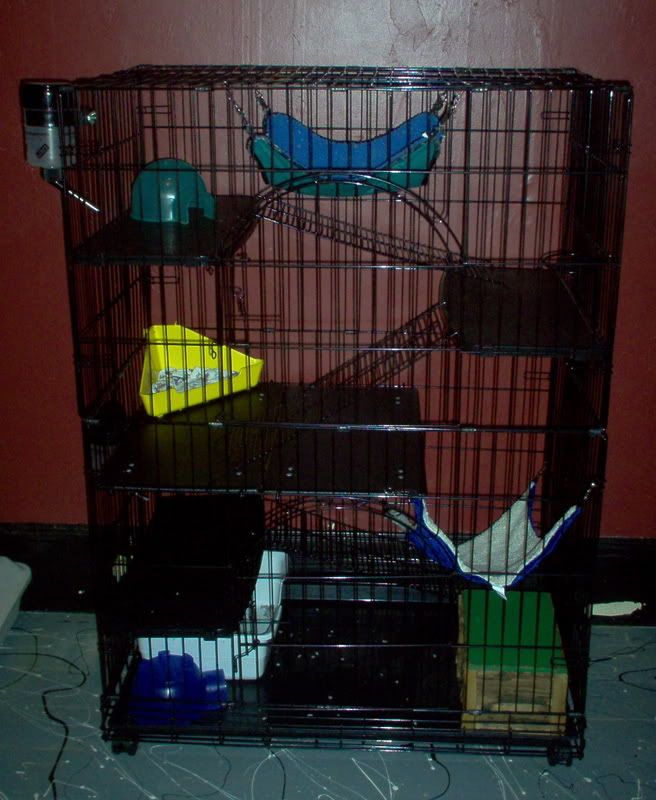 as i have said in many threads now where i talk about this cage, that was my set 3 years ago now. it housed VERY fat rat boys for a time and now that it is customized for smaller rats with hardware cloth and because i don't even have most of the previous shown toys anymore, the cage looks a good deal different. when putting on hardware cloth there was discussion on the forum about rats getting stuck between the mesh and cage, i made sure that there was no chances of that. i bought a pack of 600 zip-ties and after 10 hours of work there were hardly any left. perhaps it was over kill but my dang-it, there are no rats getting stuck in between the mesh and bars.
please keep in mind that since upgrading, the hammocks i had before no longer fit and the rats and i are in battle over the litter box. once they get better at that they will get their hanging basket back and their other hamsterball (both of which they thought were potties). so the cage looks a little bare, but we are working on it.
no without further ado, the long-awaited pictures!
the entire cage, it stands 4 feet tall, 3 feet wide and 2 feet deep.
bottom inside on the right hand side. it can't be seen in this picture but that level (right where it cuts off) is where the attached food dish and large water bottle are.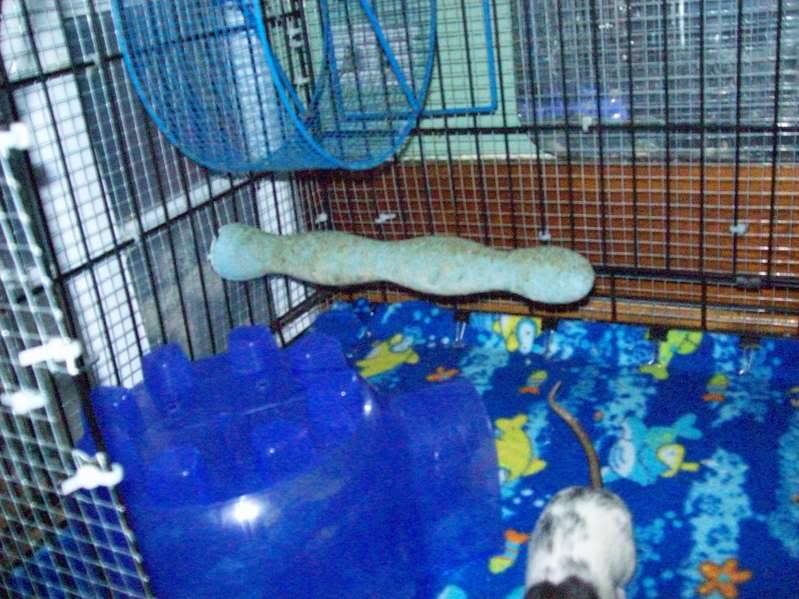 bottom inside, on the left hand side.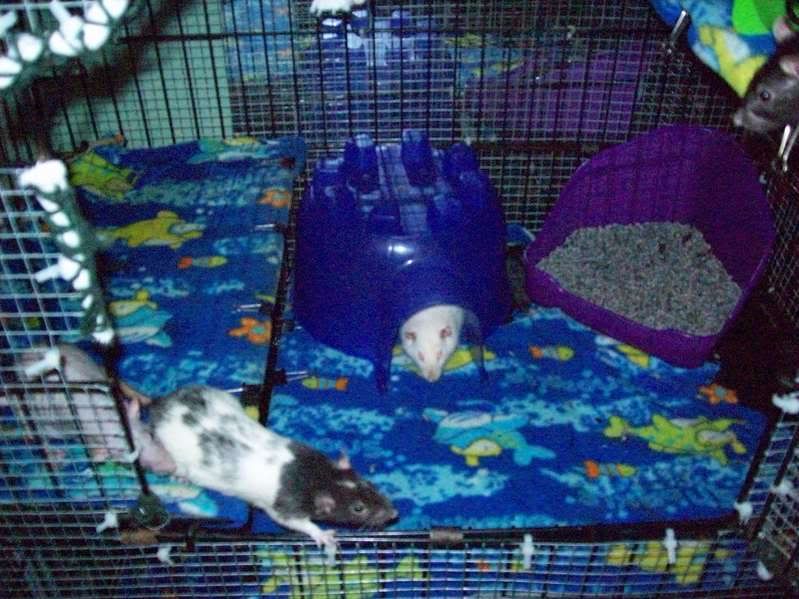 middle level.
i was not able to angle the camera properly to get good single shot of the two shelves higher up, but you can see them in further back shots.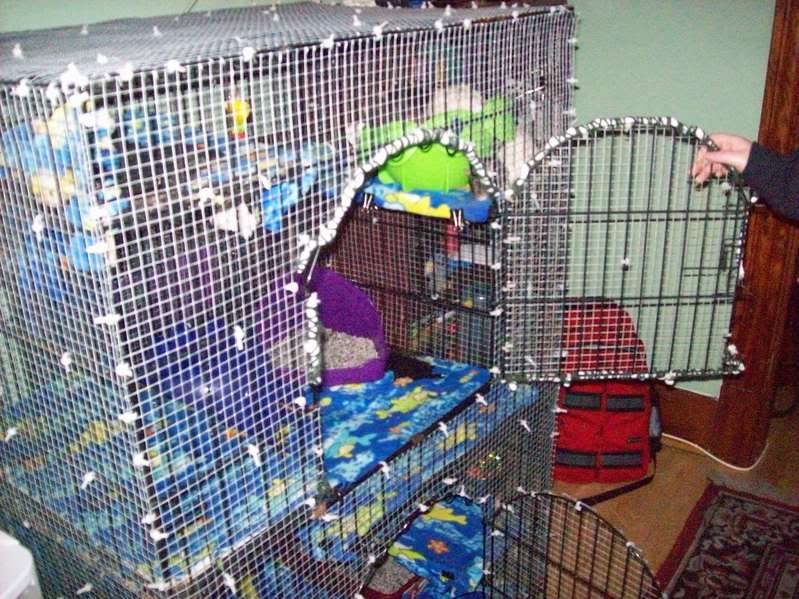 top portion, door open. the bright green thing is the bottom portion of a chinchilla dust bath flower, they like to cuddle up in it together and marinate... :roll: and you can just see the very top level. i'm thinking about removing it when i can get a hammock or something else to replace it. the rats like it but it's difficult for humans to manage during cleaning and when trying to catch the rats when they don't want to be caught.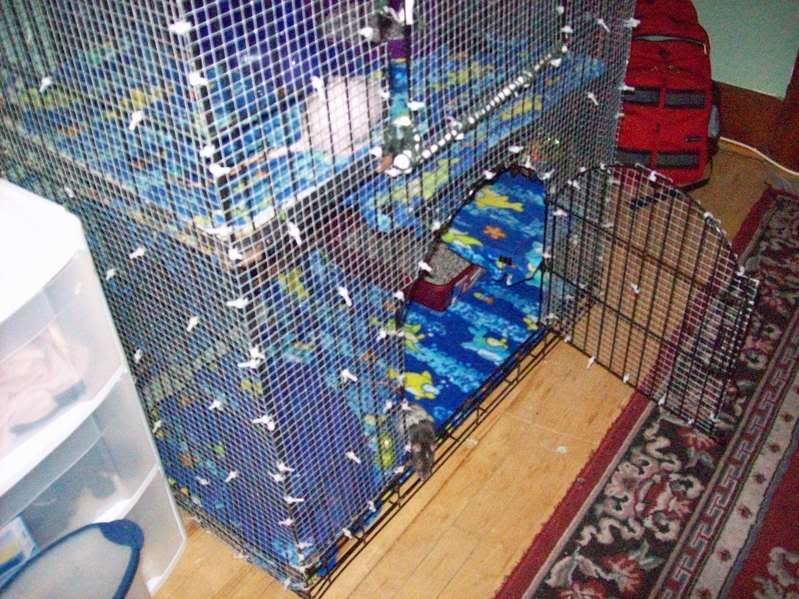 bottom portion, door open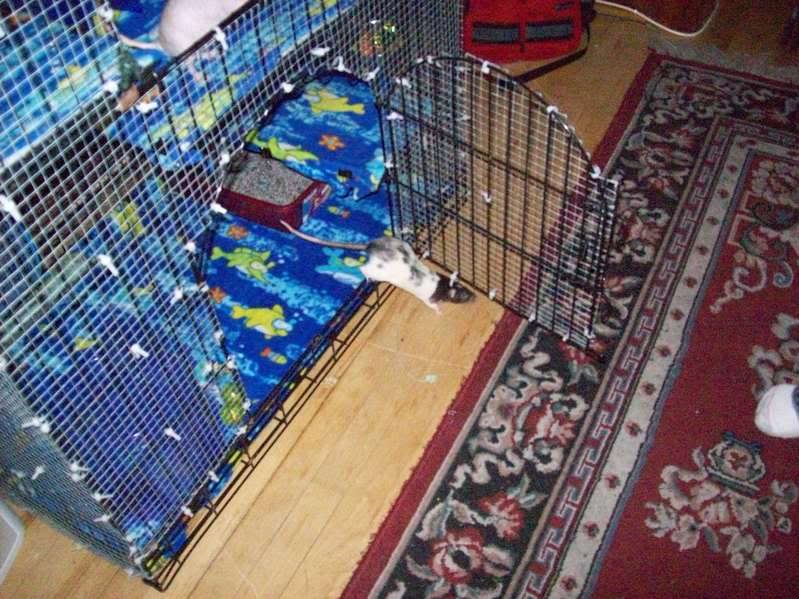 ink trying to sneak out of the open door...
the doors are really big too. they are designed to make it easy for full sized litter pans to go in and out and i myself have crawled in there to adjust the wheel.
the bottom inch or so is not covered so i can get the tray to slide in and out but the bar spacing is only an inch and none of my girls can get through. by the time they are 3-4 none of them can get out. even at 2 months its only the smaller 2 month-ers and more determined ones that can manage it.
anyway, that's the cat cage. it cost me only $90 and depending on the cage calculator can hold 11-13 rats. its cheaper then the FN, until you have to cover it, its easier to put up as its a fold up design, and if i were to get a FN i would of had to cover that too so there was nothing lost or gained there. for $90 this was a steal of a deal. the only issue i have with it is more in relation to all the bloody zip ties i put on, the edges are sharp and can scratch when messing around with the cage.