Discussion Starter
·
#1
·
This is not a question this is a learning post.
A picture or 2 is worth a thousand words they say.
I just took in 6 rats from a rehoming situation today, and found one of the lovely older girls Maddy had a throat abscess.
I gave her a dose of baytril, until my friend suggested I use my chlorampenicol palmitate instead (chlorpalm) since I had tons, the bottle was already opened and its very effective for things like this.
So this is what I found
Sorry for this pic being blurry, she had only been her an hour at that point
this ones a bit better
So I decided to start warm damp compresses and soften the scab to see where we were at with the abscess. The scab came off very very easily and this sweet girl let me hold her on her back and gently scoop out the cheesy pus inside. Then she let me carefully flush the cavity with saline solution. I had heard of abscesses in this area going all the way thru into the throat or mouth, but this one wasn't...*whew*
Maddy doesn't mind a helping hand
Here I was trying to hold her head and tip it back to get a pic of the cleaned abscess...she kept licking me and her wet feet. :roll: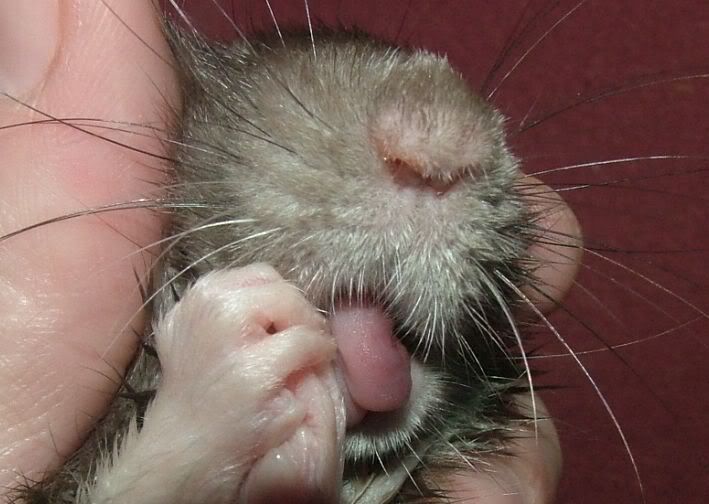 She forgave me all the indignities
And then she happily lay in my lap and groomed herself
So this is what the abscess looks like cleaned out....didn't take a lot of effort and she feels so much better she was bruxing and boggling for me. :mrgreen: