Discussion Starter
·
#1
·
Hi guys,
I think I posted about my pet snakes once before (last year sometime) but thought I'd give an update. I've added several over the past year, so I'll list my current collection below and post some pics for you.
currently I'm keeping:
0.3 ball pythons (pastave, cinnamon, pastel enchi)
0.2 Kenyan sand boas (anery and nuclear)
1.0 western hognose snake
1.0 south Brazilian Boa constrictor amarali
1.0 hypo Bci (common boa)
1.0 jaguar carpet python
And... next week, I'll be getting a male central american motley boa as well!
Time for pics! (some of these are older, so I apologize)
Pastave ball python (Elaine)
Cinnamon ball python (Cinna)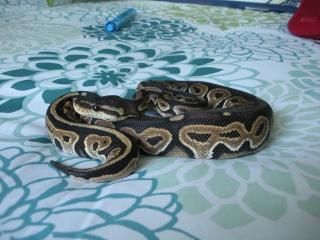 Pastel Enchi ball python (unnamed as of yet.. Just got her a couple weeks ago)
SB BCA (Jax)
Hypo BCI (Kirby)
Jaguar Carpet python (Harry)
Western Hognose (Roger.. A problem feeder)
Kenyan sand boa (anery "zelda")