Discussion Starter
·
#1
·
Hi all....I am still trying to make up my mind about a cage. I almost have my mind made up, I'm down to two...
Anybody had either of these/have any opinions?
They are both made by Prevue/Hendryx, and the prices are totally reasonable. This one is $185. The dimensions are 35"L x 35"W x 56".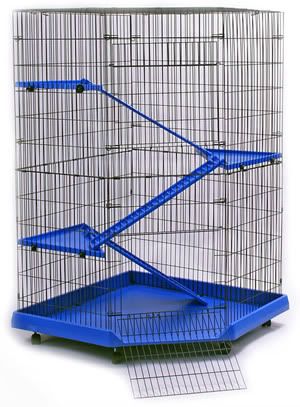 This one is $193 and holds one more rat (20 instead of 19), but as I only have 12 and don't plan on getting more, either should be sufficient as far as space goes. Its dimensions are 42"L x 31"D x 55"H. Both have 1" bar spacing, so hardware cloth will probably be needed for a while.
I am leaning towards the corner cage. Both have a lot of potential for adding fun stuff, but I think the corner cage is more interesting. Let me know what you think!