Discussion Starter
·
#1
·
Squeeeee! I'm so excited that i found this place! I'm sure you understand, while my family doesn't think i'm crazy for keeping rats, they're not very interested in hearing about them. Its nice to have a place where i can talk about my ratties.
So about me. I'm a young happily married woman with a 3 1/2 yr old little boy. He loves the rats too. Had to convince my hubby to "allow" me to get the rats, but he loves them now as well. He calls them "our girls"
I've had my rats for about a month now. Before that i had a couple mice (who sadly passed away) I can honestly tell you that i love my ratties more than i did my mice. They're so much more friendly, and they have a lot more personality. And while they're still prey animals, they don't hide in fear everytime i come near the cage like my poor meeses did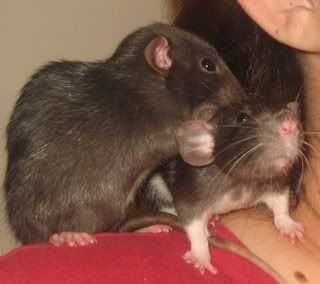 Anyway, my babies names are Pandora and Beatrix. We call 'em Dora and Trixie. Dora is my majorly outgoing (and hoarding one) Trixie is a bit more shy and laid back. I THINK they're from the same litter. They're pet store rats, but i was pretty picky about where i picked them up (been to several pet stores *shudder*) They were the only two rats there, black dumbos. I took them home to meet the family and we're been happy ever sinse. Well except for my now EPIC quest to find a bigger and better cage for them. I just aquired their new "west wing" Its a aquarium/wire cage combo, i'm currently researching ways to get the two wire cages to connect. Looking at Ferret tunnels, but i'm not sure yet.
Anyway, i plan on having a HUGE rat armoir one day
wanting to build it myself as my "next project"
And i think thats about it...yeah. I'm looking forward to "meeting" you all